Yes, we're back.
After a too long summer break attending to other matters, such as family, work and a book project, the weekly Roundup of All the News for a Human-Scale City has returned. This is an all-volunteer production.  New volunteers are welcome and urgently needed now that the interns are gone. Contact us at the email at the bottom of the newsletter.
And so much to talk about!  Because of the sheer number of topics, we devote this entire issue to what happened over the summer.  Our next issue will cover all the events and campaigns that are coming up.  Our apologies if we missed some important events. Reminder that we need 10 days advance notice to post about calls to attend rallies or hearings.
Quote of the Summer
You were probably wincing every time you looked at the paper. But even so, we have to give the Henry Kissinger Prize for Best Realpolitik Quote to no other than Donald Trump as reported in the New York Times.
"In order to build you needed to get zoning, and in order to get zoning you had to know the politicians," Mr. Trump said. "And my father got to know the politicians." 
Does that need any explanation?  I think not. Has anything changed?  I think not. Full article here in the Times.
---
So what Happened While You Were Gone?
First Up, A Summary of What Happened This Summer Related to the Good Fight
---
1. New Yorkers for a Human-Scale City will be holding a policy conference on Saturday, October 22, 2016.  Save the Date. Mark your Calendars. The overall theme is:  What rules of the game do we have to change to get a human-scale city?  Reservation links will be sent out next week.  Priority given to activists, organization leaders and their boards of directors and key volunteers who are co-sponsors of the on-line petition here.  Topics include new thinking on air rights transfers, zoning reforms and height restrictions, community-based planning, alternative ideas about affordable housing, campaign finance reform, and reform of the landmarks process and law.  Special session on charter referenda. We  may be able to squeeze in some space for a speaker on reclaiming our public commons and resources.   The goal though is to find common policy ground for the next election cycle.  The overall theme is:  What rules of the game do we have to change to get a human-scale city?  The conference is part of a weekend of celebration (October 22-23rd) of the human-scale parts of our city, also sponsored by New Yorkers for a Human-Scale City.  More in the next issue, but here is the teaser website here.
---
2. The Department of City Planning spent the summer collecting responses to a questionnaire about Air Rights Transfers that was very poorly done (unasked questions, leading questions, etc.).  Not sure who was invited to participate – not I, that is for sure.  A copy is shown below.  One thing is clear:  it does not constitute legitimate research on air rights transfers.  What is it for then?  Publicity?  Spinning?  New York needs soup-to-nuts reform of how we regulate air rights and the current commission may not be up to the job. You may have to click on the photo of the text to see it clearly. 
---
2. In early June, preservationists and supporters of a human-scale city lost a big and important battle:  a largely supine City Council passed a bill (named "775") that weakened the Landmarks Preservation Commission.  The bill was, alas, sponsored by the Real Estate Board of New York. It won the day in the City Council despite substantive, informed, and well-organized opposition from across the city.  Read about it here at the Landmark West! blog.  If there is any doubt in anyone's mind that our government has been captured by real estate interests, I urge them to look into the history of this bill.  The upshot:  we will need to elect people who will get rid of this law.
Just as worrisome, REBNY will doubtless be back this fall with more legislation to weaken the Landmarks Law and Commission.  How should we counter them?  One way to is for the other team (our team!) to put together a high level, superbly credentialed "Commission of Inquiry" into reform of the landmarks law.  There is a long history in NYC of such citizen-sponsored commissions to influence public policy, so why not start here?  It would put us in the lead rather than in eternal protest mode. We'll have to appoint this commission ourselves, an entirely doable proposition that I put before the preservationists of this city.
---
3.  The residents of the human-scale neighborhood of Inwood have prevailed and blocked certain high-rise provisions of the Sherman Plaza building. And a nasty fight it was.  Several groups worked together to defeat it.   The villains: Washington Square Partners and Acadia Realty Trust.  The heroes:  Northern Manhattan is Not 4 Sale, Preservation Inwood, and Moving Forward Unidos.  City Councilmember Ydanis Rodquez got behind the residents of Inwood and put a stop to the behemoth, but only after much rallying, petitioning and pitchfork shaking.  There was lots of press coverage on this one, thanks to the relentless activists in Inwood. Here is a good example in the Manhattan Times here.  There was some amusing and utterly tone-deaf handwringing on the part of De Blasio after this defeat, which can be read here.
(Aside: does anyone besides me see the Orwellian irony in the names these developers choose for themselves while they build hideous, over-scaled buildings?  One choses for itself the name of a historic, landmarked park (Washington Square).  Another picks a mythical green paradise and home of the great god Pan (Arcadia).  Yet another references "Sherwood" which I assume refers to the home of Robin Hood.  Why do they bother?  I don't think anyone is fooled.)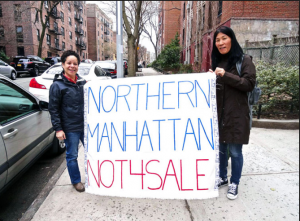 ---
4.  Anyway, back to business.  In early June, the Bureau of Standards and Appeals denied a developer the zoning variances that threatened the landmarked First Christ Church Scientist on the Upper West Side.  Central Park West Neighbors Assocation, the members of the First Christ congregation, Landmarks West! and attorney Michael Hiller won this fight, although related battles continue on adjoining sites.
This particular case causes more than wee bit of the cynic to rise up in me. Given the ways things are going in the city, my advice to all is to stock on your legal defense funds. Meanwhile, catch up at the Church fight at DNA Info here.
---
5.  A major, unprecedented battle is taking place over the scurrilous as well as ethically and legally dubious use of air rights transfers from the Hudson river into Greenwich Village. While the transfers make it technically the turf of the Greenwich Village Society for Historic Preservation (and they have done their usual great job of fighting it) it is really a city-wide fight with city-wide implications about the use of air rights transfers.  The particularities of this case only reinforce my concern that we need a city-wide legal defense fund to take on these big fights.  Leaving them always to neighborhood groups can have its downside.  What if the local defender is tempted to settle for a bad deals that work locally, but does not stop a terrible precedent? In any case, DNAInfo journalist Danielle Tscholakian has been doing a spectacular job of covering this issue, with big time  investigative journalism as well (see below).  Check out her work on this case here.
Of course, this deal has been brewing a long time and is just coming to a head. But it does represents one of several terrible abuses of air rights around the city.  The deal is a perfect illustration of why we need to reign in the air rights market.  Other examples of air rights abuses include pretty  much all of 57th Street, the East Fifties, the area around Madison Square Park, downtown Brooklyn, or anything on the borders of Tribeca.
---
6. On a more amusing note, journalists across the city suddenly become interested in the problem of over-crowding of our city. Coverage included crowded parks and pools (NYT here), crowded sidewalks (NYT here), crowded trains (Gothamist, here), and the dismal social and economic costs imposed on riders of the L train (NY Magazine  here).  NY Magazine called the L train "an apocalypse" and followed it up with recent coverage of how we will all be underwater by 2050 and how developers ignore that fact and continue to squeeze profits out of the waterfront.  What's happening?  Has the NY Fourth Estate woken up from its love affair with Big Real Estate and decided that maybe, just maybe, there is such a thing as too much density?  If so, about time!  The best of this genre of coverage was an article in Downtown Express about the trash build up in the financial district,  an area that is now heavily residential.  Read their article here.  The Downtown Express's  great photo is below.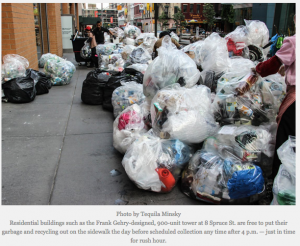 ---
7. A highlight this summer was an anti-gentrification conference held at BAM in July and organized by Alicia Boyd of the Movement to Protect the People of Crown Heights with the fierce participation of the Brooklyn Anti-gentrification Network.  Soon thereafter, The Daily News finally saw the light about what was going on in Crown Heights and gave some coverage to MTOP as well as to the Crown Heights Association, managed by Evelyn Tully.  Both organizations are coping with what the reporter called "the ground zero of gentrification."   Read the unusually well done story here.
---
8. An early June attempt to raise the height limit caps in the city was killed off in sneaky legislation proposed in Albany.  Many groups participated in this letter-writing campaign to stop the bill.  Read about it here in the MAS newsletter.  Thanks to all who sent letters.  If anyone knows the background as to how this bill even got introduced, we'd love to know the inside story.
---
9. In late August, DNA Info put on-line the documents about the transfer of air rights from the river to Greenwich Village, all beautifully obtained using the Freedom of Information Act.  The documents pertained to the transfer of air rights from the Hudson River piers to Greenwich Village, in the St. John's project referred to above. The documents lay out in cold blood the creepy, oligarchal backroom dealings and the oligarchal mindset of Carl Weisbrod (head of City Planning Commission).  But the gem of the lot is the email from the p.r. team who worried about rousing the civic wrath of the Greenwich Village Society for Historic Preservation.  The journalist outdid herself in this case. Read all about it here, with great links to her earlier journalism.
---
9. Our colleagues in London working on the "Skyline Campaign" had a significant win this summer when a poll was released with the following headline:  "Londoners Back Limit on Skyscrapers."  Read all about it here in The Guardian.
---
11. Flushing West successfully fought down an up-zoning as part of the so-called affordable housing plan.  This also took place in early June with widespread coverage.  Apparently key was the opposition of the local Councilmember, Peter Koos.  Read about it here.
---
12.  Thanks to Peter Brightbill for this summary:  In sum and substance, the Department of City Planning is moving forward with an application to build a new 1,000-foot tall residential tower just north of the Two Bridges area of Chinatown, between the Brooklyn and Manhattan Bridges.  The tower will rise on top of a pair of stilts that would literally sit above an existing 10-story senior housing building at 80 Rutgers Slip and would cantilever over a commercial space (presently, a neighborhood Pathmark pharmacy) at 235 Cherry Street. The site the tower is poised to rise on is currently owned by the Two Bridges Neighborhood Council and Settlement Housing Fund, controlled by one Victor Papas. The plan is to demolish a small community center flanking 247 Cherry Street and construct this 1,000-foot spire-on-stilts atop the existing senior housing building.  Little Cherry and Extell currently both hold long-term leases in a pharmacy building on the site, and when those leases are up, that building also will be demolished to create a 10,000-square-foot commercial space.
The developer is JDS Development Group.  The site is literally one block from Gary Barnett's Extell Corp. 850′ tower, One Manhattan Square.  Extell, as you know, is also the developer of several of the tall spires on Billionaire's Row (including the 1,775 foot Nordstrom Tower just off B'way and 57th Street).  Another, smaller, developer (Little Cherry, LLC) is in litigation with both Two Bridges Neighborhood Council and its development entity, as well as JDS and SHOP architects over the rights to build on part of the site.  Needless to say, community members are none-too-happy about these two developments, and local politicians have lined up pretty much as one would expect that they would.
Articles on this nightmare:
---
13. Neighbors continue to pile on against the strangely furtive behavior of the American Museum of Natural History which want to expand onto parkland with a truly a-contextual 3-ring circus of an addition by Gang architects, one that adds insult to the existing architecture of the place.   Of the many tragedies of this case, the worst is what might have been.  Check out the photo below showing an early rendering of what the finished museum was once intended to be.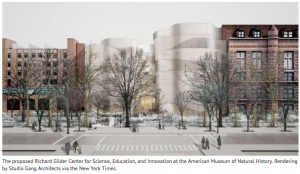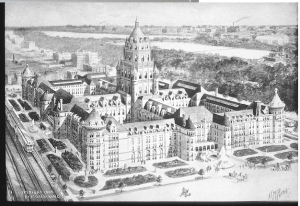 ---
14. East village activists and everyone else too (Historic Districts Council, GVSHP, etc.) are taking up pitchforks against the demolition of several fine East village tenement buildings to make room for a ….(warning: hold your nose) "millennial-focused ' hotel." Everyone rallied against this one, but the case is lost.
This case illustrates one again how we need a larger plan and vision rather than being forced to fight building by building, which is how REBNY wants us to be fighting. We need large scale alliances to do such larger scale fighting on the rules of the game that allow such demolitions.
---
14. Times critic Michael Kimmelman takes a stand on the Gowanus neighborhood plan and admits that "zoning should grow out of holistic planning based on participatory governance."  Read it all here.  He might have missed the issue that the East Harlem plan does not have widespread support in East Harlem and that alternative ideas from El Barrio Unite and East Harlem Preservation and Movement for Justice in the Barrio are not getting the attention they deserve. See the posting for example on the Movement's facebook page here.
---
15. The public arcades of Water Street were seized by Big Real Estate who won that battle with a predictably milk-toasty City Council. This was bad.  It set a terrible precedent.  Best option now would be a  lawsuit.  Read about it here.
---
16. The Church, our Lady of Loreto, in Brooklyn, faced the wrecking ball and in a narrow victory, won a reprieve.  Read about it at the website of those trying to landmark the building here.
---
17. The Village Voice deserves a prize, maybe not the Pultizer, but something big, for its amazing coverage of the awful, Wifi kiosks now being 'beta tested' in our streets. The Voice analyzes this ugly street furniture as yet another corporate boondoggle called a "public private partnership."  The Voice, here, calls the kiosks, "personal propaganda engines"of google and pokes irritated fun at the ads being shoved into our faces.  Another review calls them "overbearing." Gothamist says they are being used for viewing porn here.  Fortune covered the troubling economics of the kiosks here and raised the issue of privacy as it turns out the kiosks can film people.
---
The Battle for Hearts and Minds:  A Round Up of Some of the Op-Eds of the Summer
1. A WBAI Board member Mitch Cohen was at the grassroots awards of the Historic Districts Council last spring and put on-line a recording of the thank-you speech by Lynn Ellsworth of New Yorkers for a Human-Scale City.  General message:  we need to build an army.
---
2. The New York Times gave Edward Glaeser a starring role in their urbanist conference – one that cost $850 a head to get into, meaning the target audience was not us neighborhood people.  Journalist Ginia Bellafonte moderated the panel that featured a fun debate between Glaeser and a well-known preservationist economist, Donavan Rypkema.  Rykpkema stole the show by describing a horribly gentrified white neighborhood, leading us to think we are back into the same old race-baiting game that has been going on in NYC, but instead said "oops, that's where Ed Glaeser lives"." Glaeser was his usual pugnacious self, and said nothing new if you've read his work.  His arguments against historic districts and for skyscrapers seem weaker and weaker and less plausible over time. Here's a screen shot from the event, catching Glaeser at a moment of irritation with us neighborhood advocates.  Watch the panel on-line here.  We'll be reporting on Rypkema's truly important new and recent research on NYC in the next issue.
---
3. NY Mag critic Justin Davidson seems to have emerged as one of the boosters of the NYC Architectural-Real Estate Industrial Complex, (a prize with many contenders in NYC)  in a spatter of articles this summer that seem more like press releases for Big Real Estate.  The weakest essay, entitled "What New York Will Be Like with a Half Million More People" tosses out insults in the most baiting manner – calling people who disagree with him "nativists" (ex: 'despite nativists recurring desire to shut the gates to the city, or to specific neighborhoods, New York has continued to grow…".)  Other Davidson essays of late celebrate the new high-rise Brooklyn (ugh…) and monstrosities on 57th Street.  But, to give him credit, he did redeem himself a bit with a good essay on the streetlights here from last spring, which earns him good graces for a while yet….  There is hope yet for New York journalists and official critics who take the built environment as their beat.
---
5. Journalist Jillian Jonas found herself on a roll with an op-ed piece called "REBNY: The Thing That Ate NYC". Read it here.
---
7. Rochan Abraham in City Limits wrote a powerful  piece entitled, "Do New York's Community Boards Need Veto Power?"- link here –
---
8. Modernist tower builder and mega-project designer Elizabeth Diller got some press in the architectural-industrial-complex  by declaring what we have known for a long time:  "Supertall towers 'damage the city fabric'.  Read it here.  Never to late to join the party, Ms. Diller!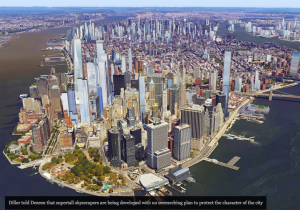 ---
9. Nice, hard-hitting op-ed in the Daily News by Isment Speliotis who says, "end the billion-dollar giveaway," referring to the 421-a tax abatement giveaway to oligarchs that he says should not be revived.
---
10. Crains's had a not-bad op-ed in late August called "City should not trust private equity firms to build affordable housing" which was a riff on the Sherman Plaza debacle in Inwood.
---
11. And the "go girl" prize for the best op-ed rant goes to Michele Herman, who I have never met, but who wrote an angry, but totally justified paragraph of frustration in CityViews brilliantly called: "The Enduring Farce of Historic Preservation in NYC"
---
12.  The most thoughtful commentary on the matter of the apocalypse of the L-train came from an op-ed in Crain's by urbanist and Tribecan Charles Komanoff, here.
---
Coming up in the next issue!
 The Conference of October 22nd – all you need to know and SOS New York weekend.
2. Rallies and hearings (I need ten day advance notice to publish your calls to action).
3. Potted summaries of the most important findings from three important research reports about historic districts in New York City.
 What would constitute new thinking on air rights.
Send corrections to us and we will edit the on-line version.