In the issue:
Sign our petition here first!
the Water Street Scandal and Seizure of Public Space
the Urban Tragedy Happening in Inwood
Harlem and the Gentrification Problem
Speaking of Regulation:  We Gotta Get a Grip on Air Rights (Greenwich Village)
Quotes of the Week:  Inwood Resident and Olive Freud
Disney takes on the Human-Scale City (again)
A History of Rooming Houses
Despicable Real Estate Ad of the Week (surprise, surprise….)
Exciting Fronts Open on the Pay-to-Play Scandals, Tidbits and Niblets and a Hearing to Attend
---
The Water Street Scandal and Seizure of Public Space
The real estate aligned "Alliance for Downtown" is pushing the Department of City Planning to do a zoning text amendment that would allow property owners of the public arcades along Water Street to enclose 110,000 square feet of public arcades for commercial spaces.  The rents would not go to the public.  Broadsheet Daily estimates the value of this give-away to be about $250 million.   The deal is being spun as a a package to make the street more inviting, which is odd, because that goal could easily be done without giving away $250 million worth of public assets to the private landowners.  Ah, Life in the Time of Oligarchy…..
But, thank the Gods of civic spirit (if there are any) that all of this is making a lot of civic-minded people sick.  Neighbors are holding a town hall.  Come one, come all.
Town Hall Meeting: June 7th, 3 Hanover Square, 6:00pm
Here is the summary of the issues, visual first: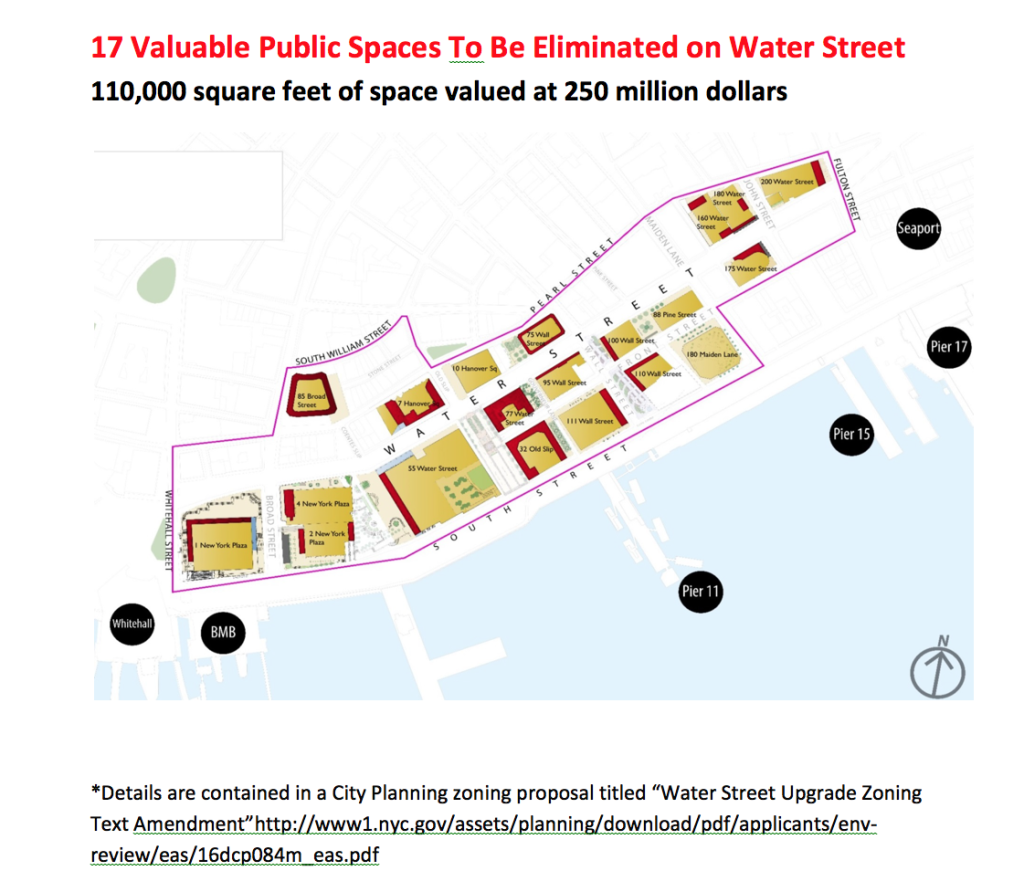 Issue Summary
The City is on the verge of giving property owners the right to fill in arcades to build retail stores on 110,000 square feet of "privately owned public space" ("POPS") at the base of 17 buildings on Water Street in lower Manhattan.* This giveaway of public arcade space, valued at approximately $250 million dollars in annual income, is driven by the Downtown Alliance, the New York City Economic Development Corporation and the Department of City Planning.  Despite community opposition, the proposal gives away rights of great potential value to the public in exchange for next to nothing.
The City is asking only a minimal commitment from the developers to improve existing plazas in exchange for the arcade give back.  When they built these buildings, the owners got "bonus" air rights (worth many millions) allowing them to build bigger, bulkier buildings in exchange for promising to maintain both the arcade spaces and plazas for the public to use.  The current proposal would let the developers out of those commitments and allow them to "infill" the arcades with for-profit businesses in exchange for a pittance.
The sponsors of this proposal are attempting to mislead the public by campaigning for commercial "for-profit" conversion of the arcades on the ground that they are "out-dated", "badly designed," "under-utilized"  "unsafe" "smoking lounges," as officials have claimed in public testimony.  If this amendment is approved, the door for developers will be left wide open for similar land grabs of allegedly imperfectly designed POPS citywide.
Lower Manhattan residents and the people who work here – the "public" who actually use these arcades – are unaware of this land grab even though it is happening at a time when other profit-driven land giveaways are making headlines and triggering investigations across the City.
How You Can Help:
Time is of the essence:  City Council will vote on this June 16th.
Call or write City Councilmember Margaret Chin ASAP who represents this area and ask her to oppose this unfair giveaway. If some arcades are closed, the community should derive real benefits, rather than just a promise from developers to fulfill their existing obligations.
Telephone: 212-587-3159                                   E-mail: chin@council.nyc.gov
Ask Council Speaker Melissa Mark-Viverto's office to urge the Council to reject this proposal.
Telephone:  212-828-9800          E-mail mviverito@council.nyc.gov
3.  For updates and information other steps, email us at: KeepTheArcadesPublic@gmail.com.
4.  If you want to write all the city council politicians about this and other public space seizures, all in one simple email click, go here. 
---
The Urban Tragedy Happening in Inwood
All around us, the attack on the human-scale of our city is ferocious and disheartening.  Here, I highlight the case of Inwood, recently celebrated here in the Wall Street Journal as one of the last human-scale neighborhoods.  It is built out to an average of seven stories high.  The beautiful Cloisters is up there as is the nationally recognized landmark of Fort Tryon Park.
In what has got to be one of the most-mis-guided-ever attempt of the Mayor to do hyper-density as an affordable housing strategy, two hideous new high rise buildings are proposed along Fort Tryon park.  They are hotly contested by the residents (the community, whose voice seems to be ignored by the current Community Board, and the civic groups such as Inwood Preservation, and Moving Forward Unidos).  Not only is the scale of the new towers all wrong for Inwood, but the shadowing of Fort Tryon Park seems not even to be on our politicians radar as a problem that needs fixing in Inwood.  Our politicians need to understand that it is possible to add density without building towers, and that the small number of affordable units being put in won't even be permanent.  The proposed towers are 27% more dense than the current area around it.  Send a one-click letter opposing this mess here, or read on.
First, here is a photo from the WSJ of  a busy intersection of Inwood.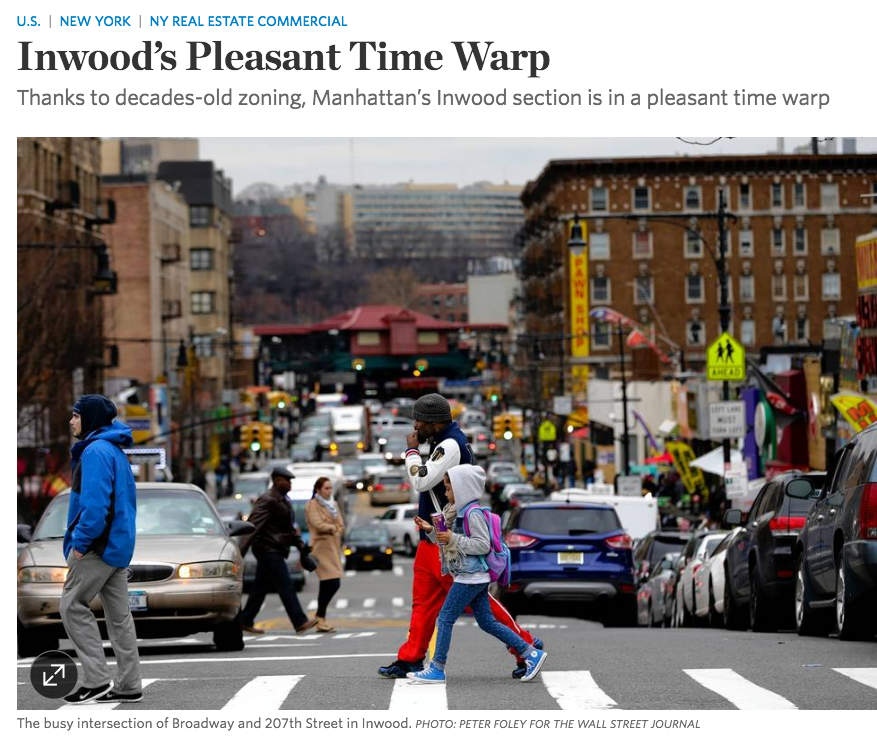 One of the resident activists on this issue wrote us and said:
"The developers of the proposed Sherman Plaza building at 4650 Broadway are still requesting a change of zoning from R7-2 to R9-A and R8-X both with C2-4 overlay.  After strong community push back and negotiations with the Manhattan BP [Borough President] developer's have promised the height will be no more than 15 stories (down from 27) with 1/2 of the apartments "affordable."  However, the building is 3 x as tall as the surrounding neighborhood, it still casts shadows on Ft. Tryon Park, and it will be visible from the Cloister's lawn marring the scenic landscape of the park, which is on the NYC Scenic Landmark Register.  The Fort Tryon Park Trust and 4 others have petitioned the city to do an Environment Impact Statement because of the inadequacy of the Environmental Assessment Study done when the original plans were submitted.  
Many residents testified at a City Planning Commission hearing May 25, citing an out-of-context structure, Park views and shadows, insufficient apartments affordable to current residents, the extreme age of our infrastructure and the landmark value of the existing building [in proximity] designed by Albert Kahn"
Another Inwood resident shared this letter that went out to his Councilmembers:
Dear Councilmembers Rodriguez and Levine,
 In light of various "negotiations" going on, I want to remind your offices that my family and many of  my neighbors remain vehemently opposed to ANY upzoning of 4650 Broadway.  It is unacceptable for a single site in a fully built out area to be spot-zoned at will.  The number of affordable apartments is immaterial relative to the upzoning request.  I will repeat this point since it seems to get lost in the politics of the moment.  The number of affordable apartments is immaterial relative to the upzoning request.  Negotiate all you like for what happens in an as-of-right scenario but NO to upzoning is non-negotiable.  
 I will be testifying against this proposal as will many others.  I trust you will support your constituents and urban planning principles rather than throw away a century of zoning to scrape out a few "affordable" apartments.  There will be plenty of opportunity for affordable housing in new developments where upzoning is appropriate, such as areas now being identified through the InwoodNYC comprehensive planning process.  But random upzonings of individual lots is a declaration of war on the neighborhood.  
 I want to add that an important bit of trickery is the claim from the developers that a 17 story building is what would be as-of-right under the existing R7 zoning anyway, making their request seem more moderate. This is complete hogwash. While there is no height limit per se under the existing zoning, a combination of factors (open space ratios, height factors, sky exposure planes and, most importantly, allowable floor area) control what is practical on the site.  The developer's own EAS used a 10 story, 110′ tall building as the as of right case, which is a realistic scenario. There is no realistic scenario for say a 17 story building – it would be uneconomic to construct. Therefore, do not buy the line that a 17 story building is the default condition – it is not. This remains a massive upzoning for a single site in a fully developed area from a residential FAR of 3.44 to a residential FAR of 7.52 and on that basis alone should be rejected. New York is not Houston; this city invented zoning and people who invested in their neighborhood based on expectations of respect for zoning law are not going to support politically-driven random spot upzonings, nor the politicians who capitulate to them.
Sincerely,
 Name withheld, Inwood, Manhattan
Here is a rendering of one of the buildings in question: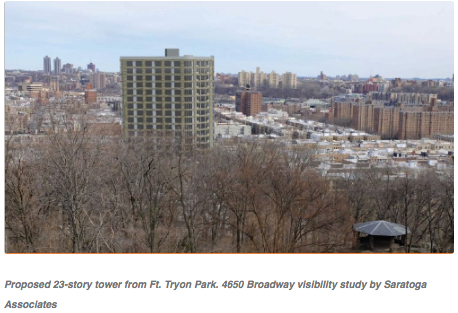 ---
Harlem and the Gentrification Problem
The author Michael Henry Adams (one of the most eloquent activists for the preservation of Harlem's cultural and architectural heritage) wrote a moving op-ed that got front-page coverage (metropolitan section) in last week-end's Times.  Given how rarely the Times ever publishes an opinion piece from any preservationist at all, it is a must read.  If you missed it, find it here.
The comments section  in the on-line version was remarkable.  It revealed one of the more disturbingly racist interpretation of free-marketeering that I have read in a while.  While most commenters on the article were appreciative of the cri-de-coeur character of Adam's essay, a good number of commenters had a "too bad, I'm rich, I'm moving in, all you poor folk can just move on" attitude that is deeply disturbing.
What can I say in response to such comments?  Don't people learn that natural free market forces have both positive and negative effects on society?  In every economic game, there are winners and losers, and even in the theoretical cases where trade creates a net gain to someone, the negative social costs are still borne by humans.   Gentrification is a free market force that has benefits (the fixing up of buildings, for example, rising tax base, for another) and negative effects (homogenization of the residents by income strata and displacement of people who don't want to leave).  The latter represents a social cost, aka, a negative externality.  And those costs needs to be regulated, no?  How can people just say, "too bad"?  It is Reagonomics gone rogue, as it was meant to I suppose.
Our free trade with China has resulted in all kinds of social costs and negative effects.  We wiped out most of the economy of the state of Ohio, for one tiny example, and made Wal-mart that State's largest employer.  No more factory jobs, just jobs stocking Wal-Mart shelves.  Who are we kidding that such a phenomenon constitutes net gains from trade?  And we did nothing for the losers of that game!  Nothing.  So I will say it again, free trade has losers as well as winners.  Our society needs to manage and regulate such free market processes better. Capitalism is like a powerful dragon.  It can fly.  It lays golden magical eggs of wealth from the unleashing of entrepreneurial energy and greed.  But it also breathes destructive fire, and sometimes it breathes that fire randomly.  Regulation is about controlling the dragon's fire without killing the actual dragon. Our imagination and creativity needs to be focussed on that task. But mindless free-market boosterism and triumphalism that ignores all those scorched by that dragon is both stupid at best and cruel beyond belief at worst.
Buy Michael Henry Adam's wonderful book about Harlem here on amazon and check out the new organization, Save Harlem Now! here.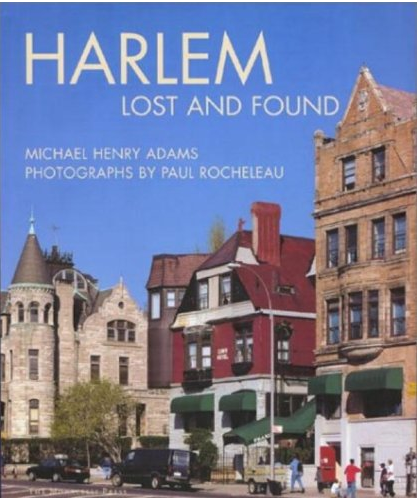 ---
Speaking of Regulation:  We Gotta Get a Grip on Air Rights Transfers
Unfettered, weakly regulated air rights transfers are wreaking havoc on our city and destroying neighborhoods. They are how we end up with those ridiculous super-talls coming up all across Midtown, Downtown, and Downtown Brooklyn.
And they are about to destroy a good swath of the West Village!   The Greenwich Village Society for Historic Preservation has been sending out urgent calls to action the past few weeks over one of the more ill-advised policy ideas to emerge out of either Bloomberg or De Blasio:  sell air rights from the piers (which project into a public waterway and natural resource known to most as the Hudson River) to developers from Canal Street northward.  What that means in practice is that the old "St. John's Terminal" building on West Street will be torn down and replaced with glass towers.
This is disgraceful interpretation of air rights and property rights in general, and just another example of  "Delirious"-ly drunken real estate development in a neighborhood that doesn't need it one bit.    The Greenwich Village Society for Historic Preservation has long been advocating for a much-needed extension of the historic district to encompass the South Village nearby the St. John's terminal, but the city is not budging. They hope to get that extension in the middle of the air rights fight.
And the city, bizarrely, is privately going around seeking opinions about air rights from a select few (not from me, alas…) for a "survey" that I could not find on City Planning's website.
Read all about the drama here, and take all the actions the BVSHP  recommends.  Although GVSHP has not signed on to the human-scale petition (everybody's got their issues), they are fierce and admirable advocates for their place in the world, the Village, one of the greatest neighborhoods of New York City.
Get some background on the madness of air rights transfers here, in architectural critic Michael Sorkin's brilliant essay in The Nation that appeared in 2013.  As is often the case, Sorkin nails a good chunk of the problem.
We plan to produce legislation about this issue over the summer.  Stay tuned.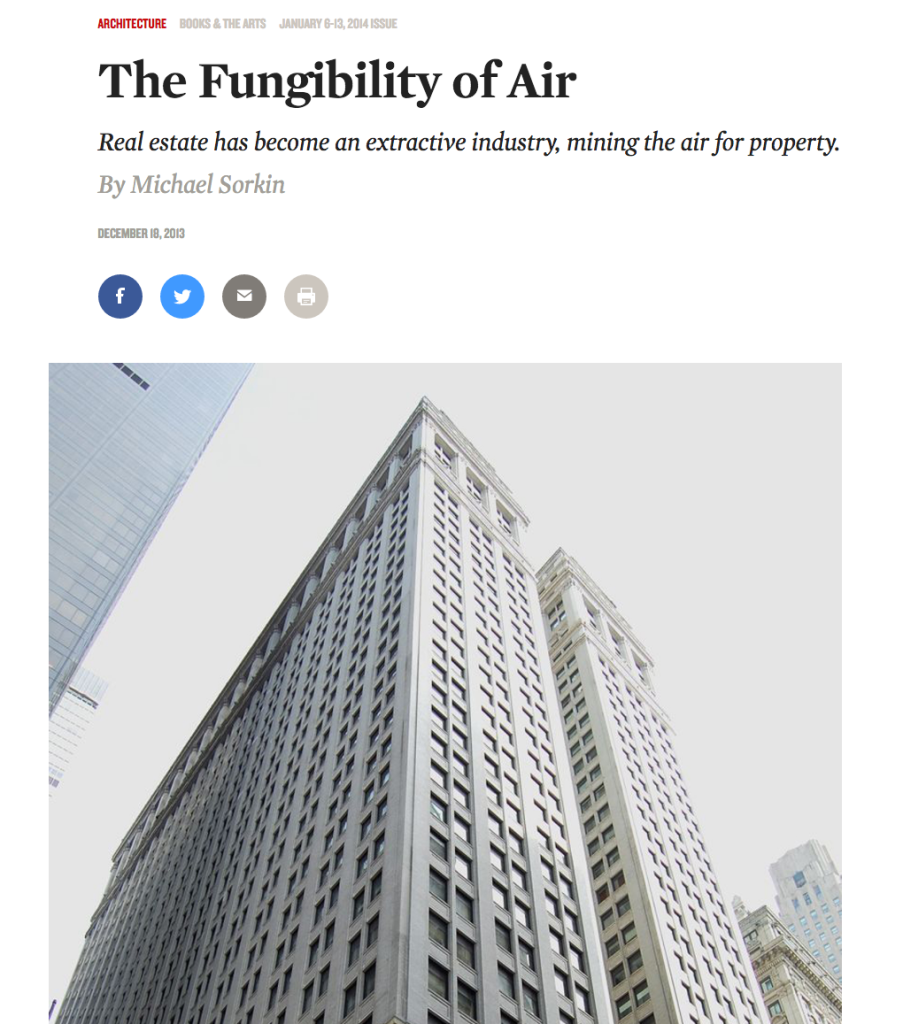 ---
Quotes of the Week
 "But random upzonings of individual lots is a declaration of war on the neighborhood."  – Inwood Resident, cited above
and
"The Public Trust doctrine has teeth and is to be taken seriously.  Other groups in the city should take heart and protect their precious public amenities; no one else will!"
Olive Freud of the Committee for Environmentally Responsible Development, a member of the Human-Scale alliance, during a ceremony celebrating the legal victory of the Friends of Damrosch Park to keep the park's uses public.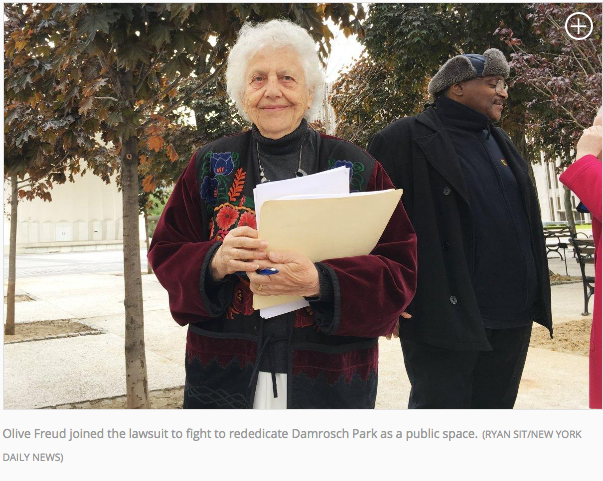 – See more at: http://www.ourtownny.com/local-news/20160518/color-returns-to-damrosch-park#sthash.BJwHktqL.dpuf
and here. at the Daily News.
---
Disney and the Fight for a Human-Scale City
Since the publication of Brendan Gill's April 29, 1991 essay in the New Yorker about what he called "Disneyitis", the relationship between New York and Disney has been a love-hate affair.  Yes, we all officially loathe the Disneyification of anything (although no longer sure what that means anymore), but….. then we love to take our kids to Disney movies where good triumphs over evil and the practice of Campbell's "Hero's Journey" among screenwriters has been mostly successfully codified within (and proven Joseph Campbell and his popularizing follower, Robert McKee, to be smarter than their critics).
Indeed, the artwork from Disney's "Tomorrowland" might as well be the flag for us human-scale supporters about the choice we face (see photo below).  But the fun part of the current Disney problem is how obvious it is that the Disney "Imagineers" are always dreaming about New York City, as would anyone who has to live in exile in Orlando or Los Angeles.  Those dreams surface in their visions of urbanity and the effects the build environment has on the eternal triumph of good over evil, or is it evil over good?  In any case, In the Disney world, the good guys always live in a human-scale place, and the bad guys in glass canyons….
Now the latest Disney film to hit the screens is "Zootopia".  It has us New Yorkers portrayed as charming tech-obsessed animals and our cityscape gets the full on Disney treatments from those talented artists.  And what a conflict it is!  Dubai-on-Hudson versus the Human-scale City conflict is all over that film.  So grab your kids and head out to see "Zootopia" and let Disney confuse you about what the future should hold.  Is that the old Penn Station in one of those drawings? Is one of those an homage to Wizard of Oz?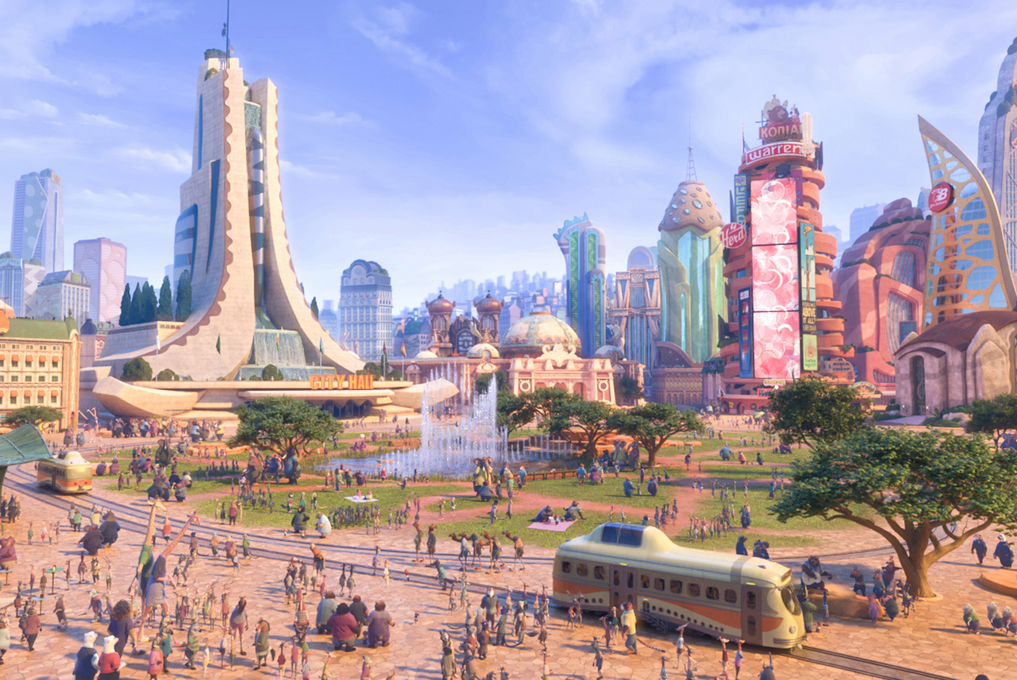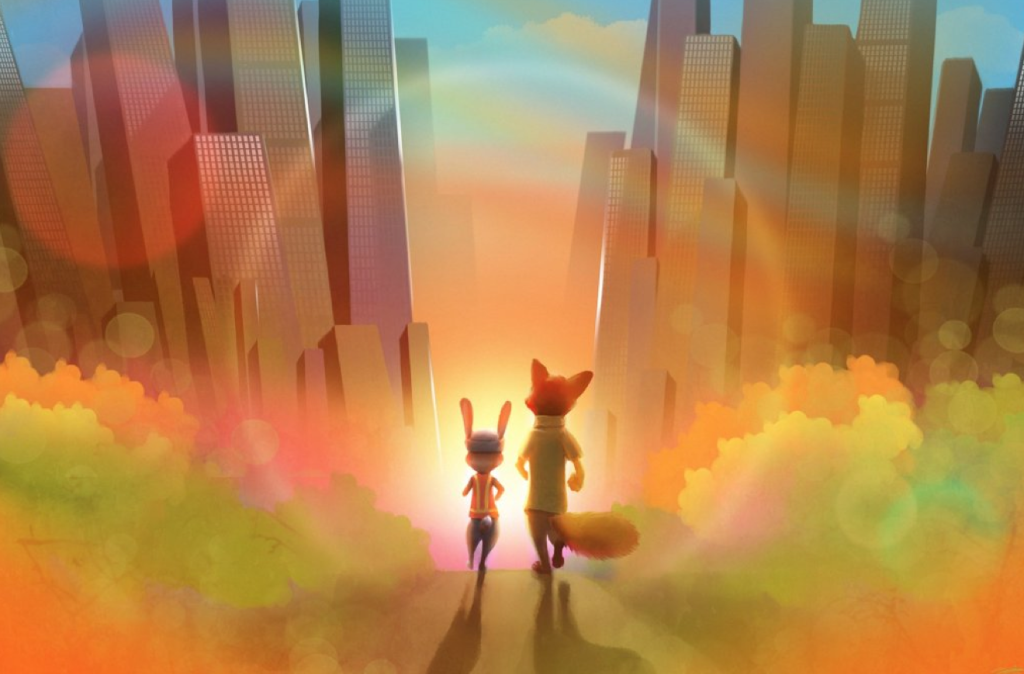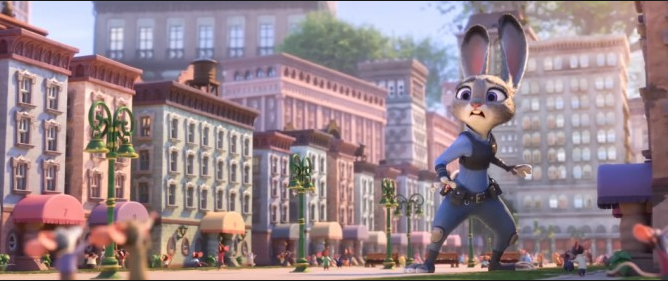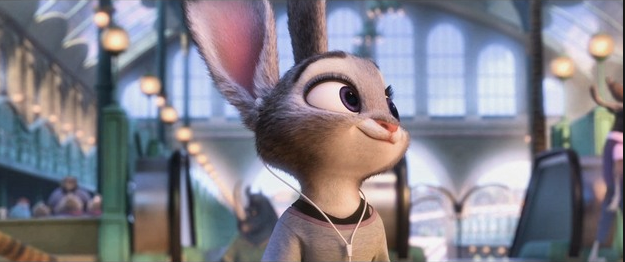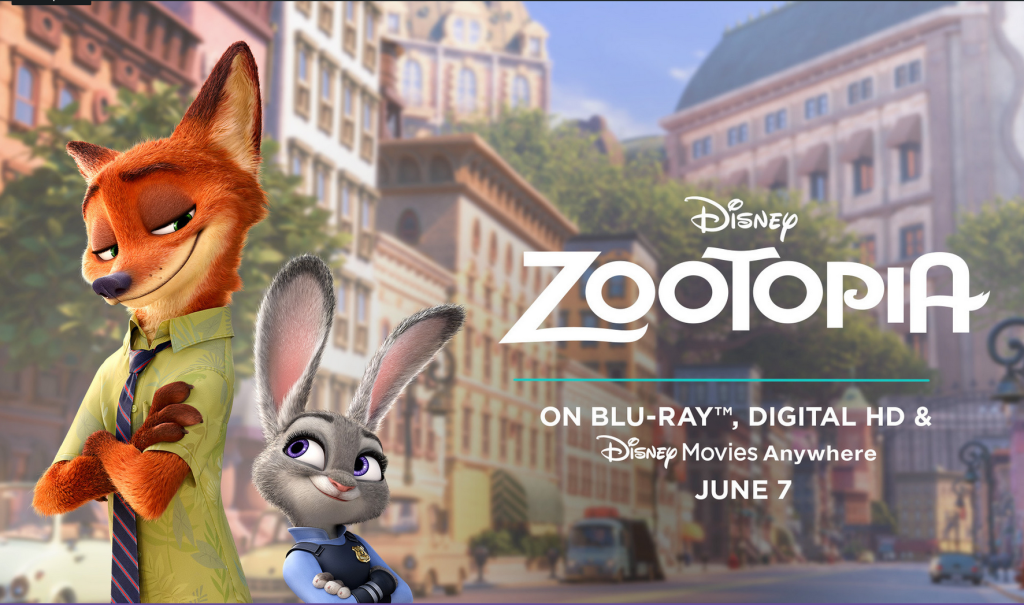 ---
Boarding Houses in New York
Having lived in a couple of SRO's and boarding houses myself when I first arrived in New York City, boarding houses have always been on my radar.  The blogosphere rediscovers them from time to time.  The latest is from 6sqfeet, who penned this nicely illustrated post last week here.  Citylab covered it in February here and Governing Magazine covered it a few years back here.
For all their problems, boarding houses are part of the solution and deserve kinder treatment from community boards.
That said, they might need a bit of regulation.  Here is what the Times said about the forced closing of one the boarding houses I actually lived in as a young waif in NYC, the Kenmore:   "It had become a bizarre warehouse for crack dealers, prostitutes, robbers and extortionists, said both Federal investigators and people who live there. The criminals did not go outside. They worked the halls, said the residents." 
True enough.  But then again, back when I was a waitress, it was all I could afford.  Here is a picture of the Kenmore in its heyday, when Nathaniel West roomed there.  And below the sketch is a photo from the Times when the place was raided and shut down (and later turned into affordable housing).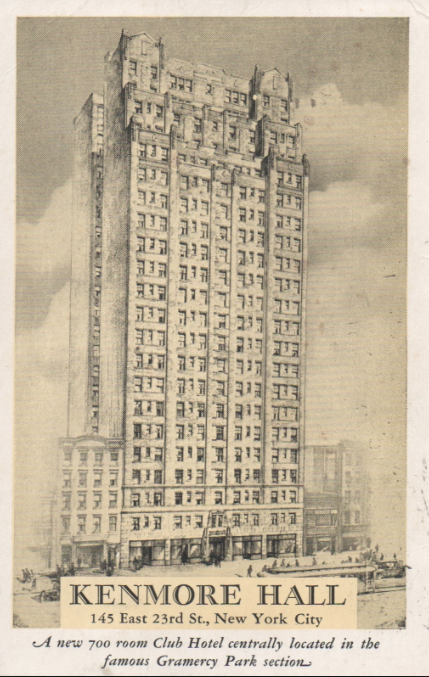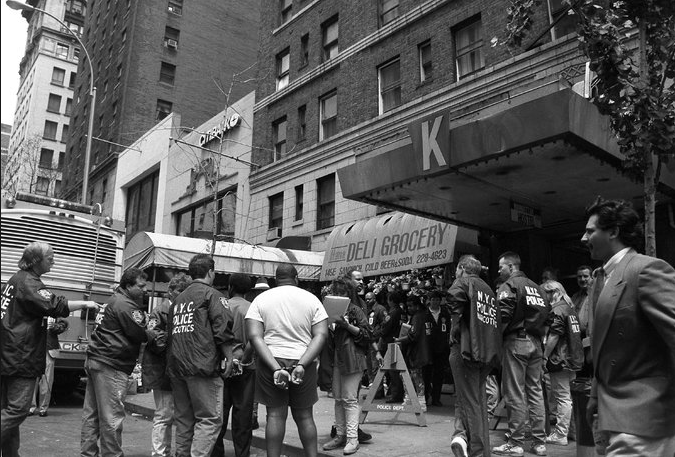 ---
Despicable Real Estate Ad of the Week
Talk about a bait and switch! Wouldn't anyone want to live next to this amazing bit of imagination?  From the Times, an ad for Hudson Yards.  Looks like paradise, no?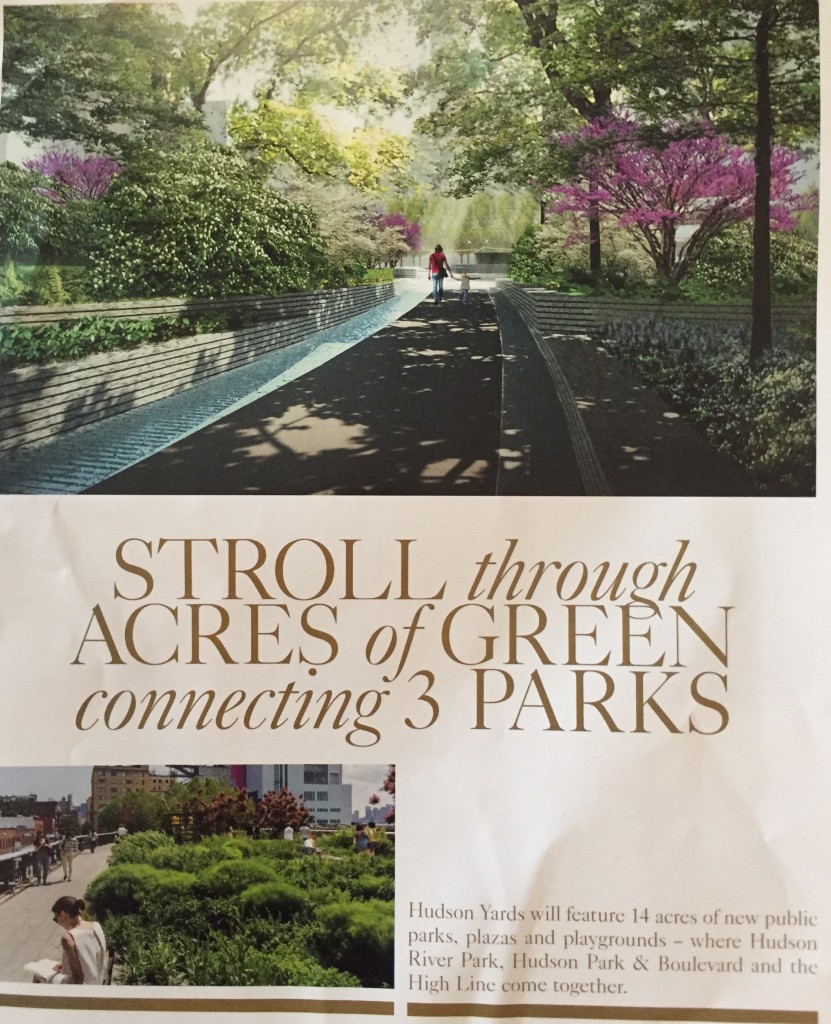 But this is what you are really going to get:
and this, which looks remarkably like the mess that has been created on the site of the former World Trade Center.  What kind of corporate urbanism are we being forced to live in?   And check out this Crain's review of the public finance debacle that is behind Hudson Yards here.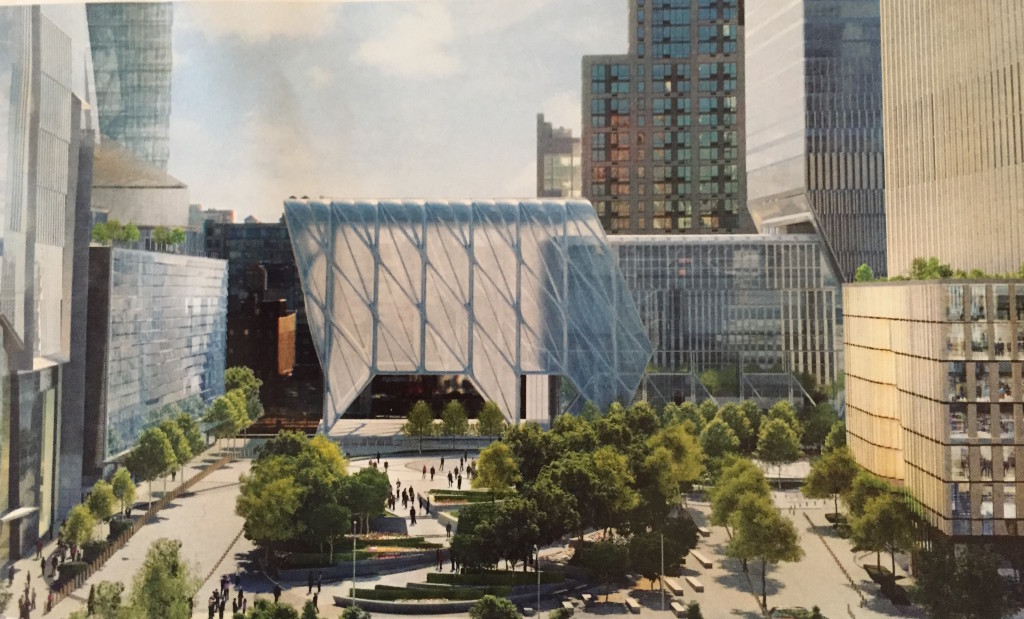 ---
Exciting Fronts Open in the Pay to Play Scandals
Thrilled to hear that federal investigators are looking into the selling of library land to Hudson Properties.  Read about it here. 

And also thrilled to hear that somebody in Albany got upset over the fishy way housing was set to be built on a park in Brooklyn.  Read about the original issue here.
The Post recently covered the news here bout the Albany upset, and the WSJ covered it here.   The City has decided to push forward anyway, which seems weird, as nobody wants the towers except the Mayor.  Here is the Post's headline story photo.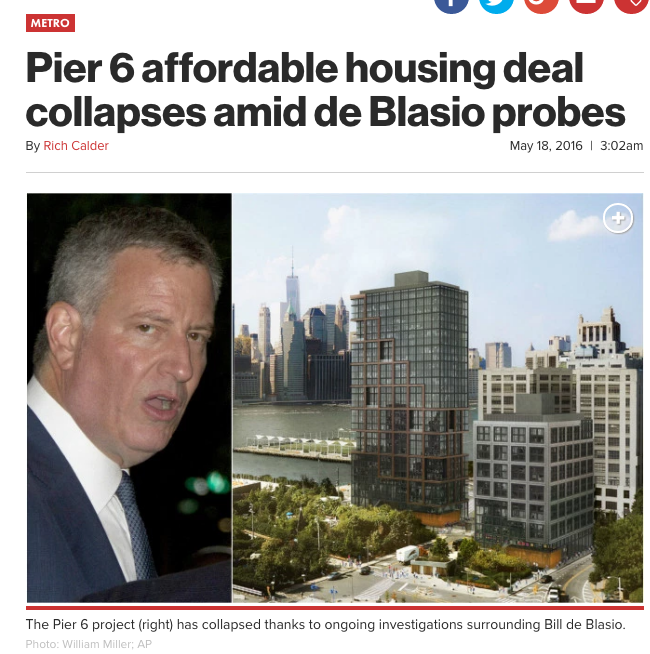 Greg Smith at the Daily News reports on an intriguing spreadsheet the Mayor's office put together about what posts to give what donors.  I hope the Daily News just publishes the spreadsheet. Read it here
Brian Lehrer irritates the Mayor with good questions about bad polls on WNYC and asks the Mayor repeatedly about why certain documents are off limits to public scrutiny.  Listen here. 
Brilliant human-scale, co-living solution in Bed-Sty to senior housing discussed here on Next City.
And if you are sick of it all, attend the hearing June 2 and help out the people fighting the mauling of a great Upper West Church and NYC Landmark. Details below.
Public Hearing
This Thursday, June 2
Board of Standards & Appeals
Spector Hall, 22 Reade Street 
Session begins at 10am
Developers want to pack 34 luxury condos – the equivalent of a residential high-rise – into the interior of the Church (designed by renowned architects Carrère and Hastings, the same architects who gave us the New York Public Library main branch), with penthouses on the roof.  
The Landmark that former congregants claim "saved my life" will become a shadow of its former self.  
Original stained glass attributed to important 19th-century artists will be removed.  New windows will be carved into the facade, most extensively on the facade directly facing neighbors' existing windows, less than 10 feet away in some cases. 
---
 How to Volunteer for New Yorkers for a Human-scale City
We need the following
 Writers/Editors for our Round-up
Can you write?  If you can, we can teach you how to do so directly into our WordPress blog and produce draft material once a week for the round-ups.  Must feel comfortable with Apple computer work environment, internet, taking direction, accepting editorial guidance.  Need to work here, with us, Monday or Tuesday afternoons, 12-4.
Photoshop Specialists and Graphic Designers
If you are good at Photoshop, we need you!  The job is mostly editing screetscape scenes to show what certain blocks and neighborhoods might look like built out at higher densities.  This can be done from home on an occasional, as needed basis.
Internet Researchers
Can you track down obscure information? Do you have access to a university library?  Can you scroll through endless pages of data from campaign finance sites?  If so, we need your help to research suspected pay-to-play land-use deals.  This can be done at home, with occasional meetings downtown with us.
Public Testimony Givers and Rapporteurs
Can you attend public hearings during the day?   Are you able to speak in public?  Do you have a strong voice?  We need people who can read and deliver testimony at hearings on our behalf when we do not have time to attend (which is often, given our jobs).  Can you got to community board meetings around the city and take notes of what transpires and send us your intel?  Join our list of people ready to serve as needed….
General Office  Support
Are you organized, good with computers, patient with small details?  Do you have a steady heart when looking at horrifyingly complicated IRS forms?   We need help updating mailing lists, working on our 501(c)4 application, and many other tasks that keep falling through the cracks.
Event Organizers
Can you draft a press release?  Can you book a venue?  Can you track down cheaper venues?  Can you check people in during an event?  Can you help set it up and clean up the venue after the event?  Can you create a flyer to announce an event?  Can you set up an Eventbrite page?   Can you market it through Facebook? We need event organizers this fall to work on our event series and conference.  First up, getting Tom Angotti to speak about his new book describing displacement in Harlem.
Photographers
Send us your images of the beautiful human-scale city that we still have and need to defend. We'll figure out a way to put them up on an instagram feed for the human-scale city.
Send us a note at coordinator@humanscale.nyc
---
As usual, send us your events and triumphs and tragedies, comments and corrections.  Watch for next week's issue which will feature the research of those brilliant people at Createstreets.org in U.K.