In the issue:
Eyesore of the Week: 1227 Broadway
Semes Event is this Thursday!
Inwood Breaking News
East Harlem Plans Worsen
We're on TV!
Fight against the Tallest Building on the UWS
New Plan for Penn Station
Video: REBNY The Bully
Quote of the Week (Yes, Jane Jacobs, again….)
Who's Paying for our Mayor's Re-election Campaign?  A Story in a Pie-Chart
---
Eyesore of the Week: 1227 Broadway
Work on the new 38-story Virgin Hotel at 1227 Broadway (between 29th and 30th street) has begun.  Ah yes, just another dull glass meme imported from China, making our hearts shatter like glass as we walk buy that dismal streetfront and shadowed streets.   Scan the REBNy-dominated news about it on Yimbynews.com.   It gets Eyesore of the Week prize for May 16, 2017.  Shall we ask The Real Deal to publish our prize on its cover?
---
Don't forget:  Attend Our Event this Thursday!
Do you live in a historic district?  Do you care about them?  Are you interested in landmarking?  Then join us for an illustrated talk by the lively Steven Semes on Thursday, May 18th at 6:30 p.m. at the First Church of Christ, Scientist.  Reserve your seat at this link: https://reconsideringcontext.eventbrite.com
The topic is how to fit new buildings into old neighborhoods.  The talk is entitled:  "Reconsidering Context:  New Buildings in Old New York.  This is a hot topic for any community board member or community group that has to deal with historic districts and landmarks. It is co-sponsored by a vast swathe of the city-wide and community groups concerned with historic preservation.
---
Inwood Update
The Economic Development Corporation said that they will consider contextual rezoning for west of 10th Avenue in Inwood.    Dare we say yippee?  Contextual rezoning means that the heights, widths, and setbacks of new buildings will be regulated to align in 'context' with the existing buildings.  This sounds like a "good" advance in the debate over Inwood's future, but we are confused as to why the City doesn't just build out the Sherman Creek area to look like the rest of Inwood in terms of scale and design.  Now that would show some political imagination. Read more about the rezoning on the Manhattan Times News.
---
East Harlem Plans Steamroll on Over Community Opposition
Roger Hernandez of El Barrio Unite! just published his op-ed on the East Harlem rezoning in City Limits, calling the rezoning a "Trojan Horse".  Read all about it here.   City Limits deserves great praise for setting up a section of their website to cover the various (awful) rezoning projects going on around the city.  It is one-stop shopping for reliable information and far more navigable than City Planning's website.  Check it out here. 
---
Tune in to our New Cable TV show, 'The Human-scale City'
The Human Scale City is now on Cable TV.  The show will air on Thursday, May 18th at 9:30pm. The channels vary depending on your cable provider: Time Warner: channel 34; HD: channel 993; Verizon: channel 33; RCN: channel 82.  To livestream the show on your computer, go to the Manhattan Neighborhood Network and click on 'Channel 1' on the right hand side.  Nine episodes are planned, five already in the editing phase.
Our first show talks about Democracy and Big Money in Politics, along with a discussion with the mayoral candidate, Sal Albanese and policy wonk Brent Ferguson, a staffer at the venerable Brennan Center for Justice.   Please tune in!  Future episodes cover Height Restrictions, East Harlem, Inwood, and 'Challenging the Machine in City Council Races' .
---
Fight Against the Tallest Building on the UWS
Community activists are fighting against the tallest building in the Upper West Side. This 668-foot tall super-tower is to be built at 200 Amsterdam Avenue.  Debacle, no?  It is about to become a legal battle as well, with activists hoping to make a zoning challenge against the project.
There was a well-attended rally on Tuesday, May 16, 8:30am in front of 200 Amsterdam (@ 69th Street).
We also learn that Landmarks West! needs financial support to help fight against this building.  Click here to learn more and make a donation.
For more news on this issue, check out the articles here and here.
---
Cartoon of Penn Station
We very much appreciate the Village Voice's brilliant cartoon named "The New Plan for Penn Station".  We are guessing that this cartoon is based on recent discussions on what needs to happen with Penn Station and potentially incorporating Madison Square Garden, as proposed by Chakrabarti.  Compare it to Richard Cameron's idea for Penn Station below. 
(Source: http://www.villagevoice.com/arts/cartoon-normel-person-9973674)
Contrast that with Richard Cameron's (architect at Atelier & Co.) suggestion that we just rebuild the old Penn Station.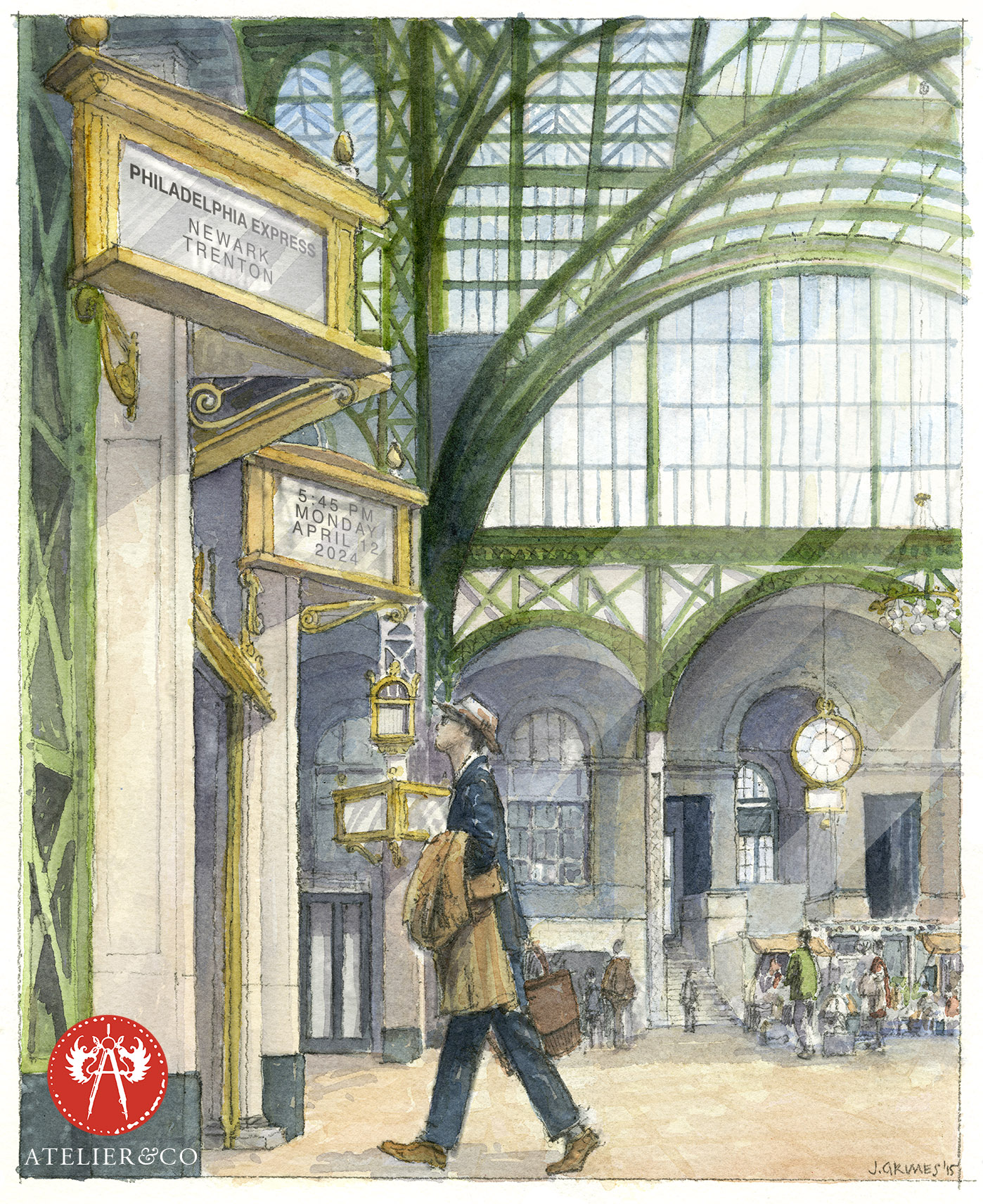 ---
Video: REBNY The Bully
Finally, we would like to share this 5-minute video by Stop REBNY Bullies!  The short film exposes REBNY's corruption and how their actions have led to a lack of affordable housing and displacement. Check out the video on their website here.
You can also download printable banners and buttons to oppose REBNY on their website here.
---
Quote of the Week –
Encountered while Thinking of the Mayor's Affordable Housing Policy versus a Human-scale City
"City Planners are always saying you can't make an omelet without breaking eggs.  But they are talking about people, not eggs!  If planning helps people, they ought to be better off as a result, not worse off.  There's this notion that certain groups of people must be sacrificed for the common good, but nobody quite defines what this common good is."
Jane Jacobs, from  The Last Interview and Other Conversations, 2016 (Interview with Eve Auchincloss and Nancy Lynch in October, 1962).
---
Who is Paying for the Mayor's Re-Election Campaign? A Story in a Pie-Chart
From our research done from the Campaign Finance Board's spreadsheet (as of May 14, 2017) of the Mayor's Donors.