Readers are welcome to have some fun with our beautiful map of Human-Scale New York, shown above. It was made by a Columbia student for us. Here is what it means:
The color yellow shows the buildings in NYC that are three stories or less.
The color green shows buildings that are between 4 and 9 stories, what we consider to be "Human-Scale" for New York.
Pink shows buildings that are between 10 and 19 stories, the danger zone of being just too tall.
The pale red color shows buildings over 20-40 stories tall and dark red is for buildings over 41 stories.
An interactive version of the map is housed on a website called Carto here here. . You can explore the map interactively and zoom around the city to your own neighborhood.
---
In this issue:
Battleground Updates: The Good, the Bad, and the Ugly
Articles of Interest to the Human-Scale City Network
Econ Corner: Trickle-down Doesn't Work in NYC's Housing Market
Round-Up of Smart Op-Eds From Around the City
Despicable Real Estate Ad of the Week
Our Politicians Hanging out at REBNY's Annual Gala
Coming up Next Issue
Check Out Our Instagram Feed: DemolishedNewYork
Closing Thoughts on Regulating Land Use
---
A note about us and this newsletter:  We publish this newsletter about every two weeks, thanks to volunteers. It is a round-up of news and commentary related to human-scale urbanism. An archive of our old newsletters is on our website here.
Human-scale NYC is a non-profit that advocates for human-scale urbanism and democratic control over our built environment. There are no real estate people on our board of directors, nor do we take money from the city, as we wish to retain our independence as a voice untainted by the real estate growth machine that has so captured our city. We also function as a citywide network of neighborhood organizations and activists working on a wide range of issues related the human-scale vision of our future:  overdevelopment, historic preservation, campaign finance reform, housing affordability, zoning, urban planning, the small business crisis, public space, parks, libraries, and opposition to the privatization of public assets. (No, we are not Nimbys…).  Learn more about it, and us, at www.humanscale.nyc
Please forward this newsletter to anyone who might be interested in making sure that New York is a city for the people who live here, not just real estate developers, investors, and tourists.
Send errors, corrections, typo alerts, notifications of dead links, offers to volunteer, and questions to coordinator@humanscale.nyc.
---
Quotes of the Week

1. "This is a farce."
LandmarkWest! summing up the recent Board of Standards and Appeals decision to let Gary Barnett of Extel violate zoning rules at 50 West 66th Street (photo from LandmarkWest!'s website).
2. "There is an unfairness of process."
-Board of Standards and Appeals Commissioner Nasr Sheta on the same issue over the Barnett tower at West 66th Street.
---
Battleground Updates
The Good, the Bad, and the Ugly
First, the Good News
1.  Last Spring, a Brooklyn State Supreme Court judge issued a temporary restraining order that specifically prohibited the pouring of concrete at the site of two disputed towers proposed near the Brooklyn Botanic Garden. (The court case will likely have an impact on the ongoing zoning approval for another massive development near the BBG, known as 960 Franklin, which would create 1,578 units of housing in two roughly 39-story.)  Despite the court order, the developer got a permit to start construction from the Department of Buildings.  Members of the Movement to Protect the People showed up at the site to protest and get arrested for trying to get the workers to respect the Court Order. The developer went to court to try and vacate the restraining order. After hearing arguments from all sides the four Justices denied the developer's motion.  Read all about it in Gothamist.
2.  In another Brooklyn win, activists in Fort Green won a round in their legal fight against a $10.5M city project that would remove dozens of mature, healthy trees from Fort Greene Park and destroy the north side of the park. The judge ordered the Parks Department to better explain its reasoning for categorizing the project — which includes removing 83 trees We are astonished to learn that if the Parks Department is allowed to categorize the project as "routine maintenance", their internal rules would allow the agency to sidestep required due diligence.  Should we file this under the tag for "doublespeak" Read all about it in the Brooklyn Eagle.
3.  A city plan to rezone Bushwick is in danger of collapse after opposition from the local community and Councilmember Reynoso.  Reynoso wanted a limit of 2,000 housing units to be added to the neighborhood, with all of them to be affordable to local residents, which sounds like a fairly reasonable stance (although the devil is in the details). De Blasio's housing team did not like the suggestion. Read more at Crains. Aerial photo of the area in question shown below.
4. The land-use fight in SoHo also appears to have been won by locals. The deputy mayor in charge of the initiative, Vicki Been, acknowledged the SoHo plan was "unlikely" after the collapse of a Bushwick rezoning plan and a judge's order to put the 2018 rezoning of Inwood on hold.  Read more in Crain's.
---
Lenox Terrace Project in Harlem on the Rocks?
Another project on the verge of collapse (we hope) is Lenox Terrace in Harlem.  Crain's reported that a long-sought redevelopment plan on the site of one of Harlem's largest residential complexes, a sprawling six-building, 1,700-unit apartment complex it owns between West 132nd and West 135th streets, is dwindling in the face residential and political opposition (Crains), opposition that included the noted architecture critic, urbanist, and CUNY professor, Michael Sorkin.  That said, our sources tell us the developer appears to be trying to split the tenant group in a classic "divide and conquer" strategy.
---
A Politician Who Actually Listens to Constituents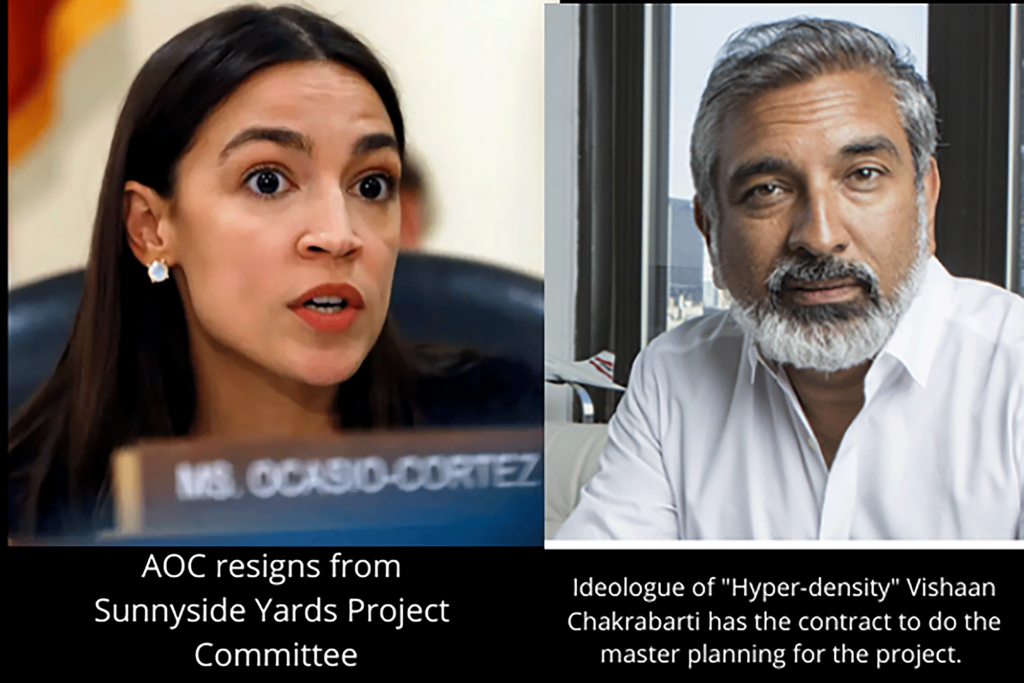 Congresswoman Alexandria Ocasio-Cortez resigned from the Sunnyside Yard Steering Committee because not enough feedback was being incorporated into the EDC's crazy "City of Oz" vision for the massively expensive railyards project (The Real Deal).  We wonder why the city doesn't turn its gaze to Floyd Bennet Field instead, or even the massive Deutch Bank site at the World Trade Center, both spots where we could put some affordable housing and land trusts.
---
Shenanigans and p.r management happening over at the BQX Boondoggle on the Brooklyn Waterfront, read more here.
---
Now the Really Bad News….
Photo above of the Chair of Board of Standards and Appeals (BSA), Margery Perlmutter, partying with real estate advisor D'juro Villaran-Rokovich, who, in his own words, "specializes in obtaining 'as of right' tax incentives for the renovation or construction of commercial and industrial projects…"  So, of course, he needs schmooze with the Chair of the BSA, right?
Alas, we see once again how the packing of the BSA, EDC, and City Planning with big real estate insiders has become a problem.
Case in point:  the fight over the illegal and excessively tall tower on West 66th Street that Gary Barnett of Extell has been building, in obvious violation of the zoning rules  was just lost in front of Perlmutter's Board of Standards and Appeals.  If you are as outraged as we are, convey your support LandmarkWest! who has led that fight, here.
Here is how LandmarkWest! tells the story in a recent e-blast.
"The Board of Standards and Appeals (BSA) decided today that the nearly 200 vertical feet of mechanical voids within the 775-foot Extell tower at  50 West 66th Street was just fine with two* BSA Commissioners, meaning the LandmarkWest! Appeal was denied.
*Commissioner Dara Ottley-Brown recused herself from the hearings and the voting because of a conflict of interest–and it's certainly not with the community. That left four voting Commissioners. Rules require a majority vote to win so even a 2-2 tie automatically goes to the Developer. So, a recusal BECAUSE OF A RELATIONSHIP WITH THE DEVELOPER meant the community needed 3 out of 4 votes, rather than 3 out of 5. In reality, "recusal" = a vote for the Developer."  Read more and support LandmarkWest! here.
---
Articles of Interest to the Human-Scale City Network
We Second the Motion!
Comptroller Scott Stringer, a candidate for Mayor, did the right thing a short while back and decided not to take any more real estate money for his Mayoral campaign.  But just a couple of days ago he upped the ante disassociated himself thoroughly with De Blasio's ill-conceived affordable housing policy. The headline in Crain's pretty much summed it up: "Stringer Blasts Mayor's Affordable Housing Plan as a Gentrification Industrial Complex."
Well, we might have said it differently, but we could not agree more.
---
Uh-oh
Governor Cuomo, as everyone know, takes buckets of real estate money. That is why this news scares us. Cuomo said he aims to buy a city block south of Penn Station to build another terminal and boost capacity at the busy rail hub. A landlord whose business is in the pathway of said he is angry and doesn't want to move. (The Real Deal). We wonder: what happened to the human-scale alternatives for that neck of the woods? For anyone driving by Penn Station these days, it is a depressing experience. See our photo below of the dystopic world that emerged there just in the past two years.
---
Chinatown Petitions, Do the Candidates for Mayor Listen?
Youth Against Displacement and the Coalition to Protect Chinatown and the Lower East Side met with City Council Speaker Corey Johnson's office on January 15. They made their views clear: "the mega-towers at the Two Bridges waterfront must be stopped and City Hall should pass the full Chinatown Working Group rezoning plan to protect our community." Community members have gathered 5,000 petition signatures with that specific request.
---
East Midtown's Transformation into Dubai Continues Apace
Chase is about to make an entire 707-foot-tall tower in the heart of Midtown disappear.  270 Park Avenue, the Skidmore, Owings & Merrill-designed 52-story black and silver-ribbed office building on Park Avenue also known as the old Union Carbide building, is the tallest building in the world to be intentionally razed.  (Gothamist)  Photo from Yimby.
---
New York's Growth Machine Flexes its Muscles
"EB-5, the federal visa program that helped fund development projects like the massive Hudson Yards in New York, has been fading recently and on the ropes, a result of fraud and its own popularity. But it still has supporters, and they are now looking to U.S. Sen. Lindsey Graham, Chuck Schumer and other powerful elected officials to help ease newly-passed rules"  (The Real Deal)
---
No Comments From Us
City & State has ranked the best and worst of NYC Councilmembers. (City & State).
---
Electeds on the Move
Bronx Borough President Ruben Diaz Jr is retiring and has dropped out of the 2021 Mayoral race (NY Post). In a more stunning move, Bushwick Councilmember Rafael Espinal has resigned to go work for the Freelancers Trade Union. Apparently, his staffers found out about this via Twitter (Gothamist).
---
Econ Corner: Trickle-down Doesn't Work in NYC's Housing Market
By Lynn Ellsworth, Chair of Human-Scale NYC
Early in his reign, De Blasio drank the Kool-Aid lot of trickle-down supply-side fundamentalism about housing and appointed Trickle-Down theorist Vicki Been as his housing czarina. Together they decided to use zoning and private sector "incentives" to implement a "build-baby-build" game for the real estate industry that even outdid Bloomberg, in its destructiveness as well as in its total ineffectiveness in influencing housing prices. The entire City Council bought into it too, with tragic results.
Their idea, borrowed more or less intact from right-wing economist Edward Glaeser, was this: only by flooding the real estate market with high-rise market-rate units, will housing prices ever "trickle-down" to the truly rent-burdened. So how is that been working out for them?
Hmmm:
According to an HPD official testifying in a public hearing in December, a laughable 2,000 housing units have been actually built so far using the ZQA/MIH incentives. Yup, you read that right: 2,000. (Ever wonder why the Mayor is super careful to talk about housing units "built or preserved"? He does that because the real numbers are just too embarrassing, even for him.)
At the same time Been and De Blasio (and Alicia Glen) in their misguided quest to deregulate Big Real Estate have purposely unleashed a flood of high-rise luxury, market-rate condo construction all over the city that has massive negative social costs. And, to add insult to injury, 90% of those new buildings turned out ugly as sin, turning whole neighborhoods of NYC into what urbanist James Kunstler refers to, crudely but accurately, as "clusterfucks".
The upshot? We got a massive oversupply of housing at the ultra high end, as De Blasio's team must have known would happen. Gary Barnett of Extell explained it recently to the New York Times: "The $5 million to $10 million [condo] market is hammered — there's way too much of it."
To be fair, there might be a modest trickle-down effect on the immediate next layer of the condo market, meaning apartments in the $2-4 million dollar range, but that looks like more like a temporary dip caused by people freaking out about Trump's tax changes and the increase in the mansion tax.
Ok, so super high-end condo prices are falling, but at the very same time, the press is packed with reports that market-rate rental prices are taking off and are at all-time highs. Crazy, huh? See, for example, this article in The Real Deal Trumpeting "Luxury Rents Up Across the City."
Industry inside-analysts like Nancy Packes explain here how market-rate developers manage housing over-supply so that rents do NOT fall.
The anti-regulators, the crazy libertarian market urbanists, and the various "Proud Boy" posses within the Yimby extremist movement will never really understand the meaning of Joseph Stiglitz's profound insight (Stiglitz is a professor at Columbia who won the Nobel Prize in Economics): "the invisible hand is invisible because it is not there."
There is some jargon here, forgive me, but New York's housing and real estate market has too many imperfections, monopsonistic features, non-homogenous consumers, oligopolistic elements, and non-competitive pieces to it to ever behave remotely like the Econ 101 market for pencils as you might have learned in your college Intro to Econ class.
The inevitable conclusion is that a meaningful and effective affordable housing policy in New York City must start from different premises and reject the Glaeser-Been model altogether. For a start in that direction, see our policy agenda on our website here.
---
Round-Up of Smart Op-Eds From Around the City
(best excerpts and links to the original ones)
By Emily Sharpe of Stop Sunnyside Yards and Human-Scale NYC
"You see, if the EDC wanted to provide those things to us, they would have done so by now. In a city teeming with global capital and tech start-ups, with city-GDP rapidly rising to an estimated $2.5 trillion by 2035, endless and unrealized promises of "good-paying jobs" from them sound hollow. They are shiny jewels meant to entice us into handing over more and more of our public land and resources for their investment and private use, until there is nothing left for us to control or enjoy."
(Queens Daily Eagle)
---
By David Stuart of Neighborhoods United
"… the Office of Nightlife's report will be a bad faith document that misrepresents the urgent concerns of residents, vastly underrepresents the direct and ancillary costs associated with the nightlife industry, and recommends solutions that fail to address the underlying, systemic issues." Read the full op-ed in
Gotham Gazette.
---
The Right way to rezone Inwood
By Inwood Legal Action team and Ava Farkas of Met Council on Housing
"If the mayor truly wants to make New York City a place where all can afford to live, he must withdraw his appeal in the Inwood rezoning lawsuit. Instead, he should take the court's decision to heart and work with communities to develop and implement community-based plans. A more democratic planning process is central to achieving housing and neighborhood stability, without which our city will not thrive." Read the whole in NY Daily News.
---
Proposed Commercial Rent Guidelines Legislation Fatally Flawed
By Kirsten Theodos of TakebackNYC and Human-scale NYC
"Councilmember Stephen Levin (D-Brooklyn) recently introduced a "commercial rent control" bill that would establish a commercial Rent Guidelines Board (RGB) to set rent increases…In reality, according to the text of Levin's bill, the majority of appointees to the proposed board represent real estate interests and only two out of the nine members represent the small business sector….. Even worse, it would establish today's grossly inflated market rents as a baseline to set future rents." Read the whole in Kings County Politics.
---
Demarest Be Damned
By Jeffrey Kroessler. (Mr. Kroessler is on the board of several preservation organizations and also active with City Club.)
"Landmarks decisions should not be made behind closed doors. Yet they are when the Landmarks Preservation Commission refuses to hold a hearing as it recently did with the Demarest Building." Read the rest at Cityland.
---
Despicable Real Estate Ad of the Week
Sorry folks at Related and Le Frak, your rival Gary Barnett at Extell keeps winning our contest, week after week. Today we laugh at the ads for Barnett's new high rise private club for the 1% particularly. Pics surfaced, predictably, at YIMBY and are below.
Note the seductive, privatized, unblocked views of a Central Park that is strangely all sunshine and without shadows! Nice fantasy there.
Note the clique of rich white men, and then the lone rich Asian man (apparently without buddies) all hanging out in the private cigar lounge. Note the unread, fake "old" books giving the illusion of a British men's club. Do moguls even read!?
What is the role of the beautiful, ethnically ambiguous, women in red? But why is she dressed in red? Why is she standing with her hips highlighted? Why is she hanging out in the cigar lounge? Is her pose and clothing supposed to suggest subservient arm candy? Are we to think she is a professional? Wow, is Barnett's p.r. team ever succeeding in doling out embarrassing tropes.
The solution to this oligarchic nonsense: take back our Sky Dome, people!
---
Our Politicians Hanging Out at REBNY's Annual Gala
Every year, so many elected officials feel they have to pay homage to this over-weaning real estate lobby by attending the annual gala? That mystifies us.
Worse, did these politicians pay for their ticket? Yikes, we hope not.
---
Melinda Katz – recently inaugurated Queens DA after very narrow, just-squeaking-by victory over rival Tiffany Caban. And What's the president of the YMCA doing hanging out with Big Real Estate?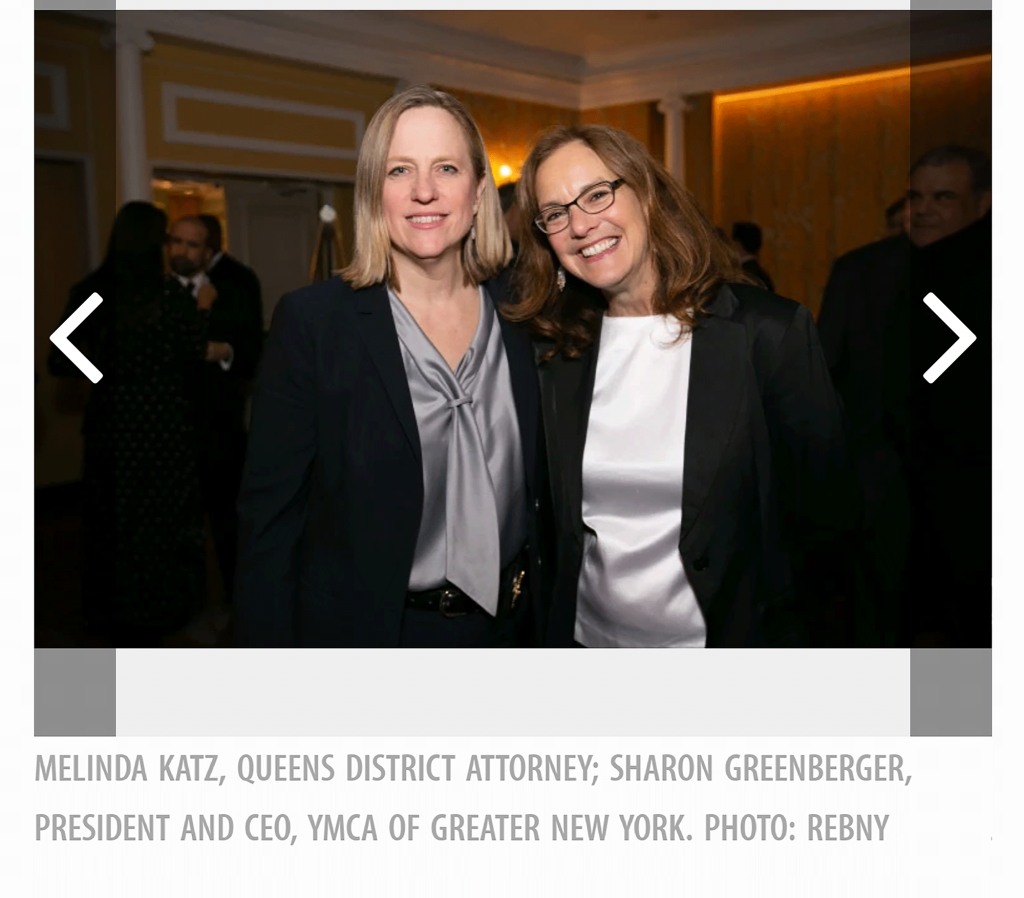 ---
Councilmember Donovan Richards, (who has been observed by us to chide people as NIMBY's in public hearings) and who is chair of the Zoning Committee in City Council and the recipient of $38,000 in real estate donations for his election campaign for Queens Borough President (see The Real Deal here). He's seen here chatting with Kyle Kimball, former head of the malevolent "Economic Development Corporation" and now a big shot at Con-Ed, your favorite utility that overcharges wildly for your energy consumption.
---
Here, Manhattan Borough President Gale Brewer is seen hanging out with REBNY President, James Whelan. Whelan surely wants something. We wonder what it is. Maybe it is just to keep his main lobbyist, his VP for Governmental Affairs, reappointed to Community Board One in Manhattan.