What's in This Issue:
 Inwood Resident Coalition Holding Press Conference Next Tuesday in front of City Hall
What the Greatness of Inwood Should Mean For City Planning: Do No Harm
Renderings of What the City Plans
What You Can Do
---
1. Inwood Residents Fight City Plan for their Neighborhood
– Press Conference Tuesday
Upper Manhattan tenants, faith leaders, workers and small business owners
will hold a rally outside City Hall as the New York City Council prepares to hold a hearing on
the proposed Inwood NYC neighborhood rezoning. The rezoning has received considerable
opposition from the community and local elected officials, with both Manhattan Community
Board 12 and Manhattan Borough President Gale Brewer voting against the proposal at earlier
stages in the land use process.
WHO: Northern Manhattan Is Not For Sale, Riverside Edgecombe Neighborhood Association,
Ft. Washington Collegiate Church, Uptown Community Democrats, Laborers Local 79, Northern
Manhattan Community Land Trust, Save Inwood Library, the Inwood Small Business Coalition,
Metropolitan Council on Housing, Altagracia Faith & Justice Works, NY State Ironworkers
District Council, NYC Community Alliance for Workers Justice, United Auto Merchants, and
Inwood Preservation
WHAT: Rally and press conference in opposition to Mayor de Blasio's Inwood NYC rezoning
WHEN: Tuesday, July 10  at 12 noon
WHERE: Steps of City Hall
CONTACT : Nova Lucero, Met Council on Housing, 917-952-5494
---
What the Greatness of Inwood Should Mean for Planners:
 First, Do No Harm
 Lynn Ellsworth, Human-scale NYC, Inc.
Inwood is the latest neighborhood to be forcibly hauled through a massive upzoning.  The public hearing is coming to the City Council this Tuesday at 10:00 at City Hall.  You can read about the City Planning's destructive, proposal here, and see images of what that damage would look like at the bottom of this essay.  Fortunately, five neighborhood groups came together and produced a much smarter, much more thoughtful plan here called the Uptown United Platform.
I don't live in Inwood, but I have walked every single block of Inwood in both winter and summer, many times, since 1980.  I've been in friends' apartments.  I've watched a wedding in one of the Churches, watched school drop off, and attended community meetings.  I have read in the library and hung out in the parks. I've shopped in the stores and eaten in the restaurants. I've read all the studies.  I must have a thousand photos of it. And yet, when I walk through it, I am as amazed over Inwood as I was the first time I discovered it back in 1980.
Truly, this is one of the very greatest neighborhoods of not just New York City, but in the world. It represents a rare pinnacle of just right, 'Goldilocks' urbanity that is not too big and not too small.  It is perhaps only trumped by certain working class neighborhoods of Paris and Barcelona.  Off the grid, surrounded by parks, it is densely built out with architecturally harmonious and extremely handsome 6-story pre-war buildings that stand on short blocks that curve, rise, and fall with the topography.  There are stairs. And coming from midtown Manhattan out of the A train, I am always pleasantly shocked, for even at 6-stories, there is suddenly sky everywhere at ground level, like in Paris. The apartments are mostly smaller and mostly rent-stabilized apartments and mostly occupied by hard-working, middle-class Latino families.  It's clean and occupied and safe. There's a small, slightly ritzier section up by Park Terrace, and a small number of relatively well-maintained buildings filled with Section 8 families. Inwood has a middle class Latino feel to it. And it also has one of the rare things in New York, visual integrity.
Inwood also has many thriving small businesses that are mostly owned by Latinos, in bustling ground floor retail in mixed-use buildings and on the commercial streets.  There are very few empty storefronts. The barbershops and beauty shops are many, and packed with clients. There are 99-cent stores and bakeries and clothing and hardware stores.  There is even a stretch of outdoor cafes that is a noisy and controversial haven to a Latino singles scene. A shop here and there suggests there is gentrification, but just a bit – not the crisis levels one sees in Williamsburg.  There are several lovely old Churches with thriving congregations, and attractive, well-maintained schools, both public and parochial, and a wonderful, just-right, recently renovated public library that even got a prize in 2012 as the best of the branch libraries.  On the southeastern edge of Inwood there is a very tall public housing project which has the usual mysteriously underutilized green space behind fences, a hallmark of Le Corbusier-style planning.  At the northern edge, the neighborhood's flow to the river is blocked by the Columbia University sports complex.  But in general, strolling Inwood is a joy.  The sidewalks – and sometimes the streets – are filled with children riding bikes, families talking, and people in clusters with folding chairs playing dominoes under the trees.  There are eyes on the street everywhere. It is dense, but the just right level of dense, the level that makes one delight to be in a vibrant city, not the overcrowded dense that makes you cringe to enter the subway.  It is, to be honest, the kind of urban ideal that Jane Jacobs wrote about and that City Planners anywhere in the world dream of creating.
So is there anything actually wrong with Inwood that needs an urban planner to fix it?  Not really. There are some bad apple Section-8 landlords who need hauling into jail. Maybe it needs a public swimming pool.  Maybe the landscaping around the Dykman Houses could use some rethinking (by inhabitants).  And sure, wouldn't it be nice if the two-story taxpayer buildings were 6-stories high like the rest of the neighborhood?  But then again, how would you do that without cruelly evicting the thriving businesses already in them?  Maybe just leave that false "problem" alone: let it fix itself incrementally under the existing zoning. And sure, some scattered in-fill housing to replace the smattering of parking lots on the commercial streets would be welcome, assuming that such in-fill rose to just 6-stories like the rest of the neighborhood.  So time to keep moving, planners, nothing to do here except bring your students to show them what great urbanity looks like!  But then, one encounters a low-rise, manufacturing and commercial zone between the elevated tracks on Tenth Avenue and the Harlem River. That part of Inwood has a low-rise Mitchell Lama co-op, a school, a church, a one-story sprawling supermarket, a few warehouses that supply the city's Bodega sector, and some big parking lots. All of it leads down to extremely well-used pocket parklets along the undeveloped waterfront.  A NYC developer would be agog at that bit of Inwood and think:  hey, all that area should be rezoned for housing rather than for manufacturing, right?  Well, what would Jane Jacobs do?  Luckily, she has already told us, in a speech at a urban conference in 1981, in which she argued for very small incremental plans over big plans, for a eerily similar case to Inwood in Toronto, that of the St. Lawrence neighborhood.  Jacobs argued for just extending the existing zoning and street grid from the successful part of the neighborhood down through a former manufacturing area to the water.  Such a small plan, she claimed, would help that area eventually get incrementally built up to match rather than contrast with the older, successful part of the neighborhood.  And that is what they did in Toronto, and that success is a famous one.
Alas, our Department of City Planning has come in with a plan that will destroy the great urbanity of Inwood by over-packing the commercial corridors with 11 and 14 story buildings that guarantee the departure of the existing small businesses. It would also disrupt the 'just right' goldilocks urbanity that is already there, and physically split the neighborhood into four separate areas rather than keep it united and intact.  And to top it all off, it would massively gentrify and overdevelop the area going down to the water with 20-30 story high-rise towers. It would effectively privatize the floodplain of the Harlem River waterfront for the wealthy and put gentrification on steroids.  It is exactly the wrong thing to do.  It does harm, obvious harm, and great harm.
Fortunately, the residents of Inwood came up with a Jane Jacobs type alternative plan, one that builds affordable housing without gentrifying, one that keeps Inwood's scale and visual integrity intact, protects the historic assets that the city has so far ignored, and one that, in a more thoughtful way, knits the manufacturing stretch back into the old neighborhood.  It is a plan that avoids the massive displacement of small business and removes the risk of excessive gentrification that the City's plan would entail. The alternative plan does no harm. So how can there even be question as to which plan is superior?
The local Councilmember, Ydanis Rodriquez (who was voted in with only about 24% of registered Democrats turning out that day), supports the plan, against all reason.  He is claiming (without data) that Inwood will gentrify anyway, without the City's plan to towerize Inwood.  He might be missing the larger picture here.  Tragically, the City Council has a buck-passing tradition to avoid blame:  none of the other City Council members will vote against what the local Council member wants.  Obviously, that would be a disaster for Inwood. It is time City Council members did the right thing, and supported the resident's plan.  Some traditions do not stand the test of time or reason.
---
Renderings of What the City Plans to Do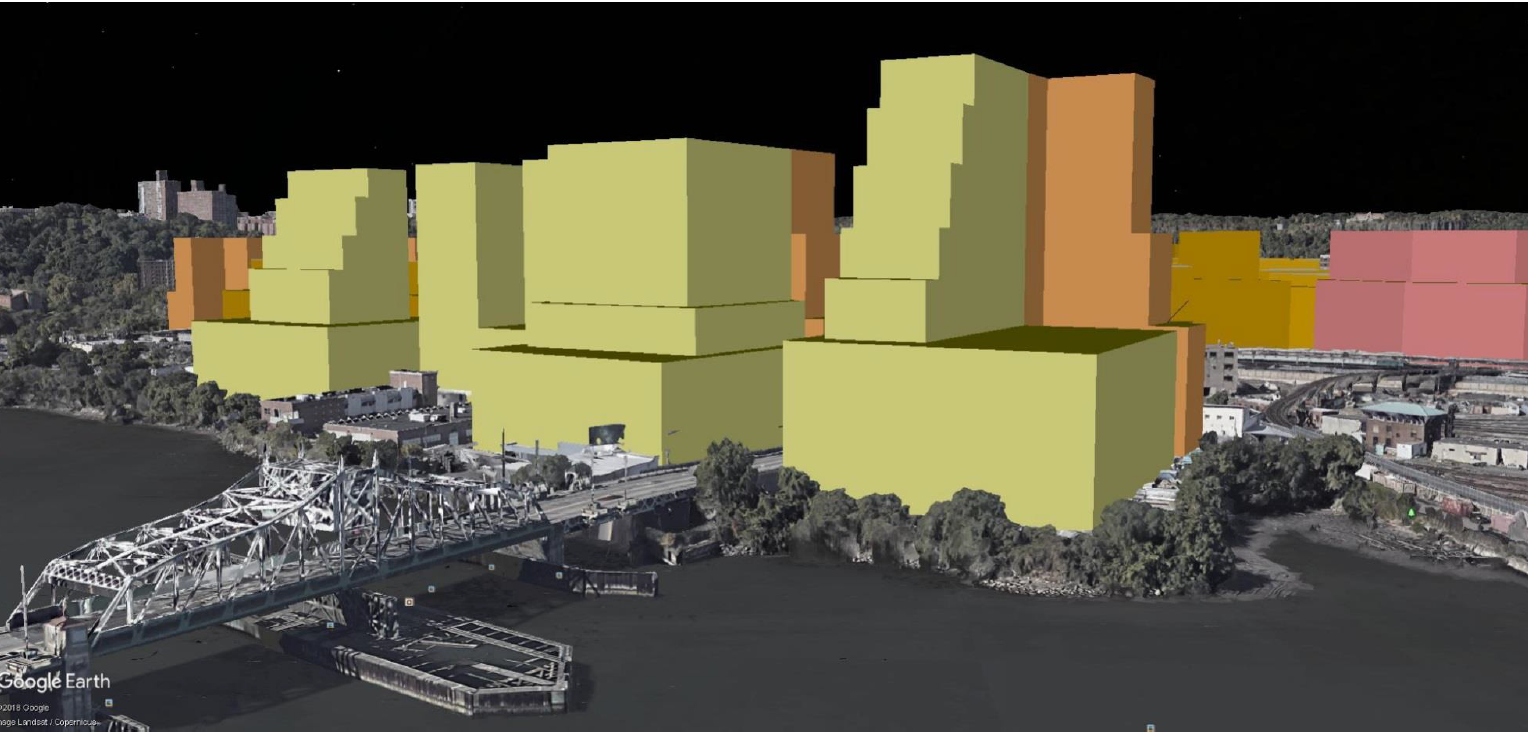 ---

---
What You Can Do
Call or email your City Council Member.  Ask them to speak to Councilmember Rodriquez and persuade him to back down on his support of the City's plan and to support the alternative plan. Ask them to vote against the plan.  You can share this email with them.  Here is a site where you can find your Councilmember's contacts.
Show up! Go the Press Conference and show your support for the Inwood Resident's Coalition.
Show up again! Attend the hearing, even for a few hours, to show your support for the Inwood Resident's Coaltion.