In this Issue:
Battlegrounds that Need Your Support
Shared Streets Op-Ed by John Massengale
Urbanists Should Protest the Inwood Rezoning
Tidbits
Despicable Real Estate Ads of the Week
Quote of the Week from Jerold Kayden
---
Battlegrounds That Need Your Support at Hearings in the next few Weeks
200 Amsterdam Fight: Hearing at the Bureau of Standards and Appeals

Tuesday, June 5, 10:00 a.m. 22 Reade Street)
What's at Stake?  A perverted gerrymandering of  a "property lot merger" serves to pile up FAR on a single tiny lot and cannot be allowed to pass as public policy.  This is a citywide issue, if this passes, it will start happening everywhere.
Come and speak and ask the BSA to follow the law
City Council Hearing over the Spot Up-zoning near South Portland Avenue near Fort Greene

Wednesday, May 30th at 9:30 a.m., 250 Broadway, 16th Floor
What's at stake?  An effort to overturn contextual zoning and built out-of-scale
City Planning Hearing over the 80 Flatbush (also a Spot Upzoning)

Save the Date:  Wednesday June 13th (to be confirmed)
More Information:  Click here for the Boerum Hill Association's site
What's at Stake?  Two mega-towers that zoning now does not allow, have developers who want to build taller anyway.  In exchange, they promise some "neoliberal crumbs" to the community while excessively shadowing a huge low-to-mid-rise neighborhood.  These developer games are not what provides affordable housing! Politicians need to stop playing those games too.  Find our more here. 
Civitas Sponsors a Forum:  How Tall Is Too Tall?  

Where:  Lenox Hill Hospital Auditorium, 131 East 76th Street
When?  June 6 at 7:00 p.m.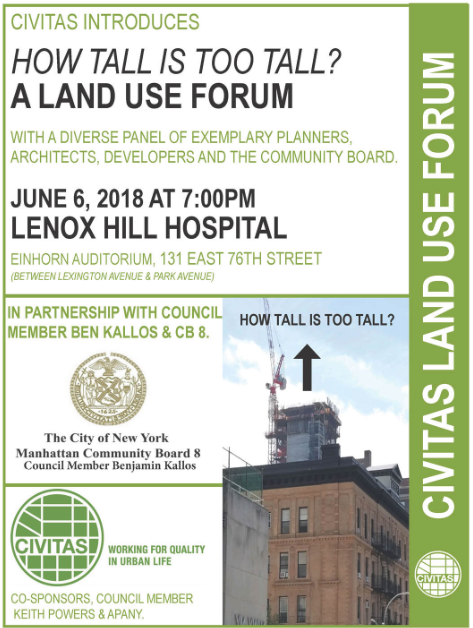 Residents of 80 Bowery who have been evicted are going on a hunger strike.  Youth Against Displacement will hold a rally and candlight vigil at City Hall, protesting the administration's collusion in the evictions.  Find out more here.
Call your Councilmember now and ask that they pass the Small Business Jobs Survival Act.

This act requires a negotiated process before a landlord can decide to not renew a tenants lease.  It is absolutely constitutional and is not, contrary to what REBNY tells you, a form of rent control. Below is a copy of an ad that advocates took out in the Villager recently.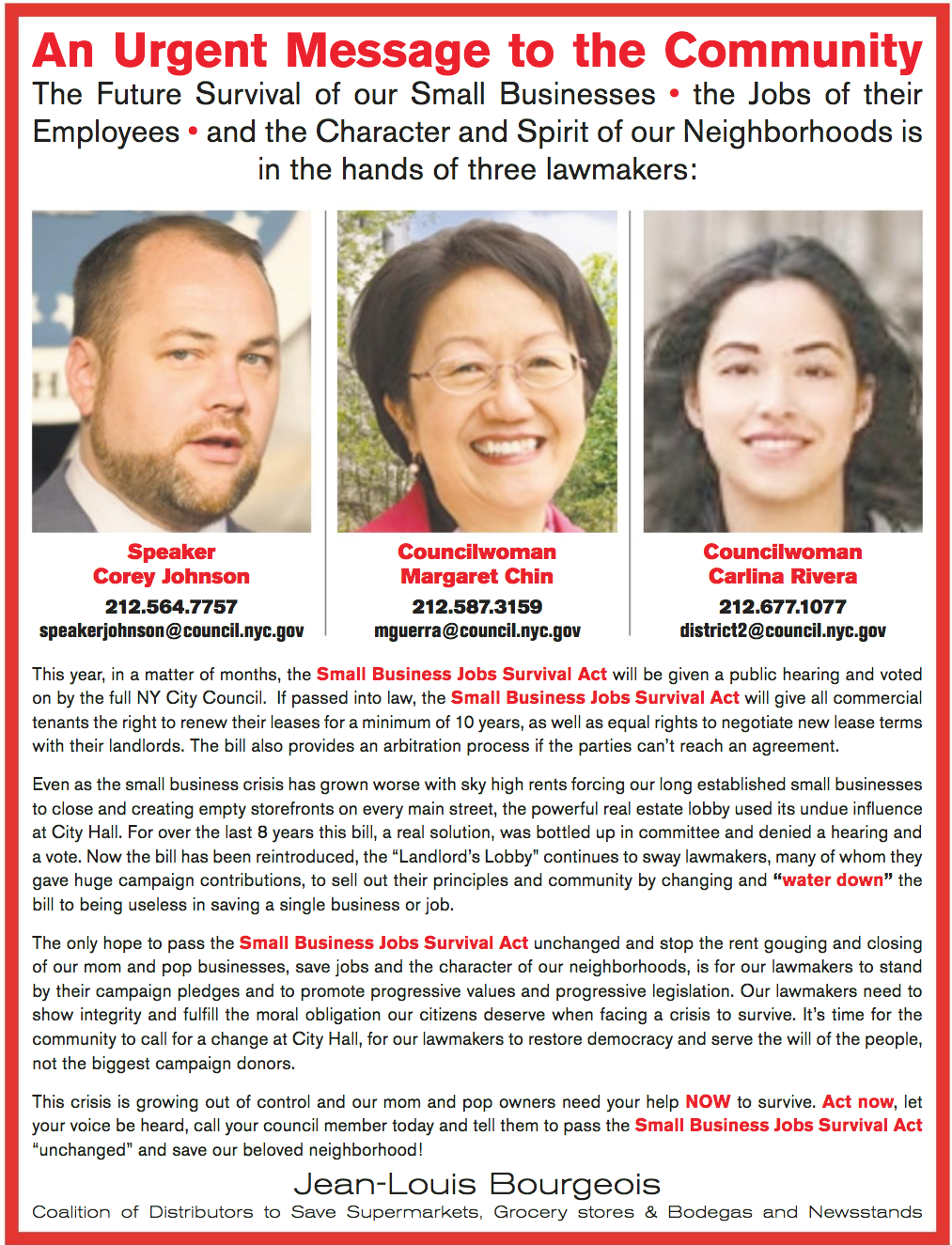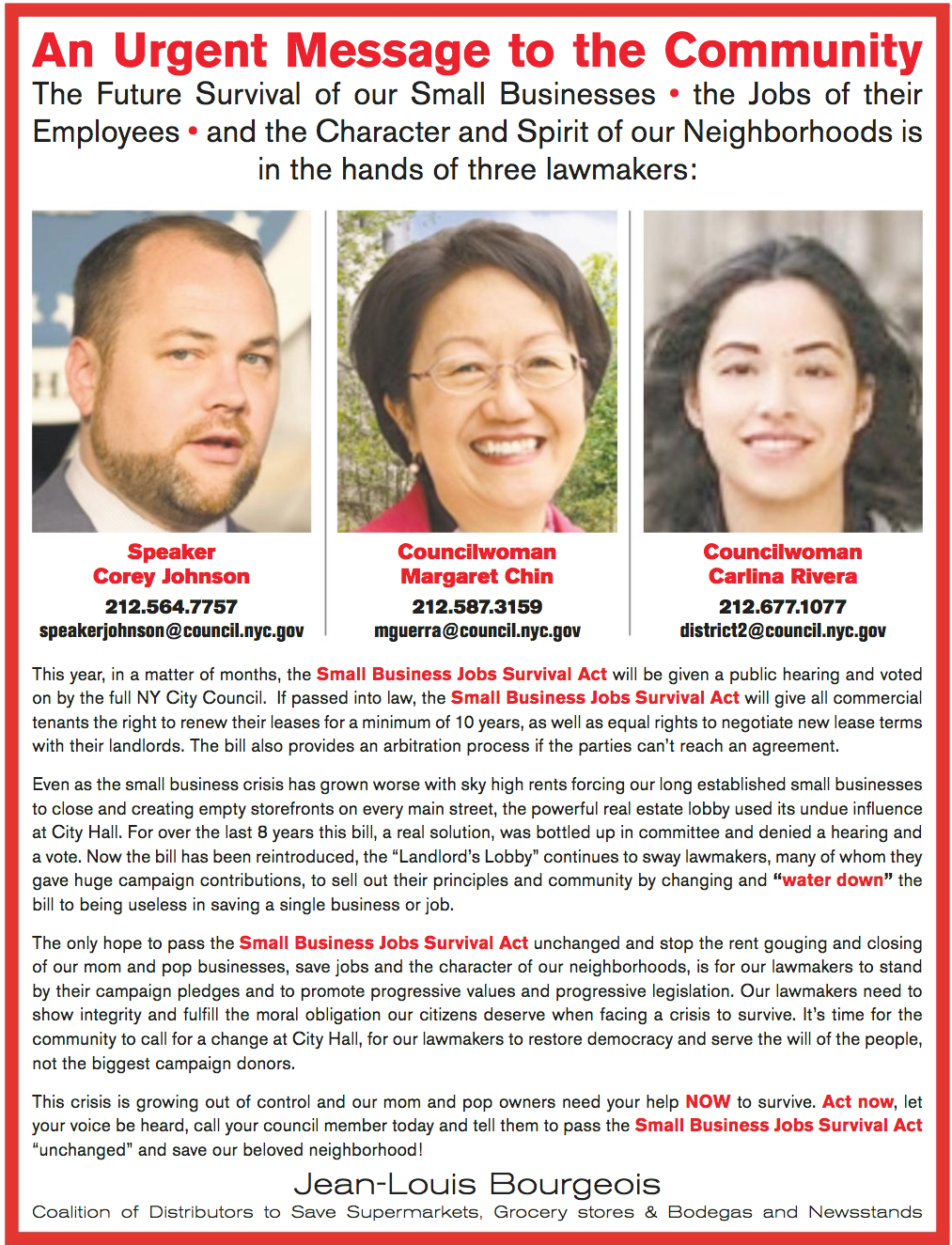 ---
Shared Streets Op-Ed
In case anyone missed it, architect John Massengale makes a compelling case in the Times for shared streets, explaining the context for better use of our public spaces, using a great illustration of what Bleecker could look like. Here is a link.  Photo below.
---
Urbanists Should Unite in Protest Against the Inwood Rezoning
Inwood is one of the great success stories of neighborhood development in all of New York City.  It was built-out at "optimal" or "Hausmanian" density in the 1920's (after Baron Von Hausman who was put in place Paris's form-based zoning code).  That means that the area's winding streets (lined with parks) got filled with 5-8 story buildings that featured relatively small, modest apartments at great density.  There are many churches, schools, and a charming library.  So the real puzzle is:  why isn't Inwood a historic district – not just for its architecture, but for its great urbanity and human-scale?  Is this a kind of racism at the Landmarks Preservation Commission?
Inwood came to be filled with mostly Latin rent-stabilized residents, many of whom also are stuck in risky 'preferential' rent agreements with their landlords, meaning that many are afraid to speak out out of fear of harassment.  There is a modest amount of gentrification taking place.  While that gentrification is not at "the sky is falling levels", it is enough to confirm that public policy priority #1 in this city needs to be overturning the evil Urstadt law and give renters greater protections.  That should be the cornerstone of a meaningful affordable housing policy in this city.
There is some space to build in Inwood, but not much of it, and even walking through those spaces, it is clear that a good urbanist imagination suggests that the best strategy would be incremental in-fill at the 5-8 story scale, using the old "Quality Housing" paradigm, and utterly contextual at that.  Most of the available space is on the other side of a commercial street towards the Harlem River, as shown in the photos below.
But no, that is not the plan. The city's plan to up-zone the area takes a scorched earth, tabula rasa approach and ignores the need for preservation of a great neighborhood. Shame on the De Blasio administration for such a ham-fisted approach.
Inwood residents across classes and incomes have bravely fought this rezoning.  The City Councilmember, Ydanis Rodriquez, seems to be waffling and does not appear to understand the "golden egg" of urbanism that Inwood represents.  Likely he is being pressured by the Mayor, who, along with City Planning, seem ever more ideologically entrenched in their Reaganite, anti-progressive, supply-side (of luxury housing) approach to working with developers.  In sum, a disaster is afoot.  It is a nefarious plan and urbanists across the city should be crying foul.
Find out more at these links:
---
Tidbits
Friends and Residents of Greater Gowanus got some press traction over their call to do some landmarking in Gowanus BEFORE a re-zoning.  See photo below of a potential landmark and read more here.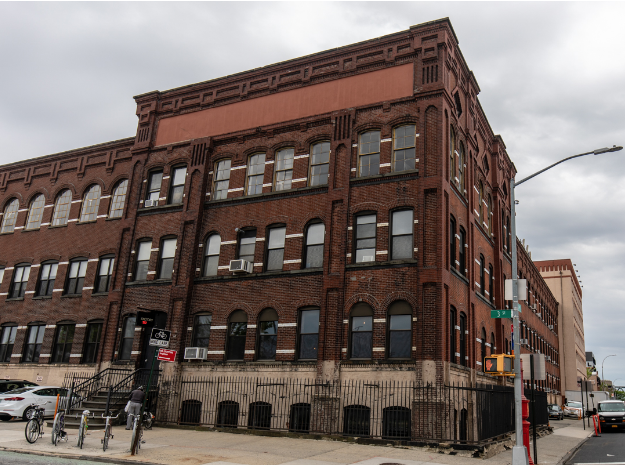 Why we must overturn the Urstadt Law and make every apartment rent stabilized as a basic matter of justice and human rights.  Read what the courts do here. 
---
Despicable Real Estate Ad of the Week
This one needs no explanation, does it?
---
Quote of the Week
"The truth is, in New York City, there is not that much of a conflict between zoning and real estate developers because the city is very permissively zoned.  The zoning ordinance has almost always given real estate developers what they have wanted."
Jerold Kayden. page 112 of Planning and Zoning the City, edited by Todd Bressi.  Keyden is a professor of urban planning at Harvard.
---
Donate Now!
We need your help raising money for our intern fund (with it, we will be hiring interns next fall at $15-20 an hour) to produce our weekly newsletter).  Your contribution is tax deductible, as we are now a 501(c)3 tax exempt organization.  Click here.