In the Issue:
Save the Dates

Rally at CityHall to Save Chinatown and Lower East Side
Skyscrapers:  Boon or Blight?  Talk at CUNY
Attention Architects, Preservationists and Community Board Committee Members:  Thought Leader Steven Semes Speaking Soon on Upper West Side

Death of Christopher Gray:  Author of the beloved Streetscapes column
East Harlem Community Group's Video Opposing the Mayor's Plans
Construction Boom Causing Unprecedented Worker Deaths
(Over)speculation Watch: Developers Flooding to Bed-Stuy: uh-oh
NYC Real Estate Industry's Donations to Trump
Goldilocks Density:  A Way to Plan our City
Despicable Real Estate Ad of the Week
A Coalition in the Bronx fights the Mayor's Upzoning of their Neighborhood
More Towers: Billionaire's Row Extending to UWS
Sunshine and the City:  The Times' Cool Shadow Map
---
Save the Dates for Three Events
TOMORROW, MARCH 16th:  The Coalition to Save Chinatown and the Lower East Side invites community groups and individuals to join them at a rally this Thursday at City Hall to protest the Mayor's refusal to consider their community-based development plan and built 4 luxury towers instead.  Photo of their flyer below.
———————————————-
2. ALSO TOMORROW, MARCH 16:  An Evening Talk at CUNY Grad Center 
Location:  365 Fifth Avenue between 34th and 35th Streets

———————-
THURSDAY, MAY 19TH:  Lecture —Make New York Architecture Great Again:  Reinventing Context
Mark your calendars for a controversial talk by Steven Semes, Professor of Architecture at the University of Notre Dame and Director of their graduate program in historic preservation.  Semes is a national thought leader on the question of new development inside historic districts.  There will be a panel discussion following the talk.  Panelists include Richard Cameron, an architect at the Brooklyn-based firm of Atelier & Co. Cameron has proposed rebuilding Penn Station as it was, so the discussion should be very lively indeed.
When: Thursday, May 18th, 6:00 p.m.
Where:  In the spectacular sanctuary of the landmarked First Church of Christ Scientist, 68th and Central Park West
Co-sponsored by Tribeca Trust, Historic Districts Council, Landmarks West!, and the Alliance for a Human-scale City (list in formation)
Event is free, details to follow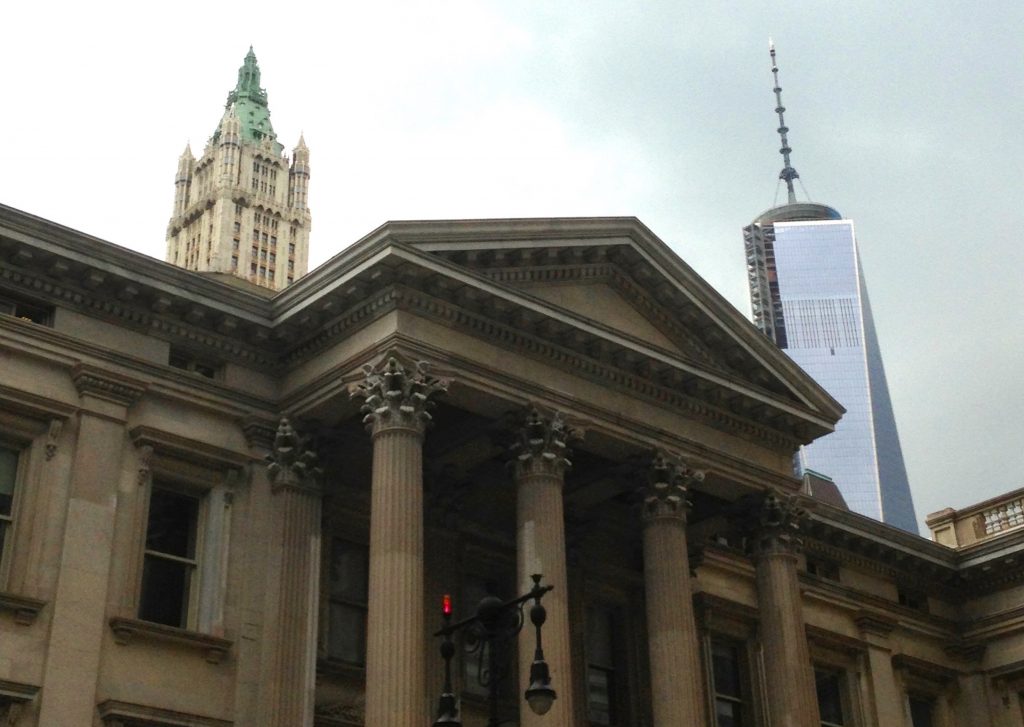 ---
New York Times Streetscapes Columnist dies
Christopher Gray, the author of the beloved Streetscapes column in the New York Times, died unexpectedly of pneumonia last Friday.   His obituary can be found here.  A screenshot of one of his columns is shown below.
---
MOVEMENT FOR JUSTICE IN THE BARRIO POSTS FILM
The Movement for Justice in the Barrio is one of three groups protesting the two widely hated redevelopment plans for human-scale East Harlem.  The movement recently made a film documenting their protests that never seem to make the mainstream press.  Here is a link to their film on youtube.
---
HIGH NUMBERS OF WORKER DEATHS ACCOMPANY DEVELOPMENT BOOM
Among the many negative consequences to New York's construction boom in recent years, one that is often overlooked is the alarming number of construction worker deaths:  thirty-one in the last two years.  The reason?  Developers using non-union, untrained workers on their sites and rushing to finish projects.  Listen to a recent Brian Lehrer Show segment on the issue here. Read an early-2015 report on the construction boom, and developers whining about the Department of Buildings being backlogged here.
---
(OVER)SPECULATION WATCH: DEVELOPERS POURING INTO BED-STUY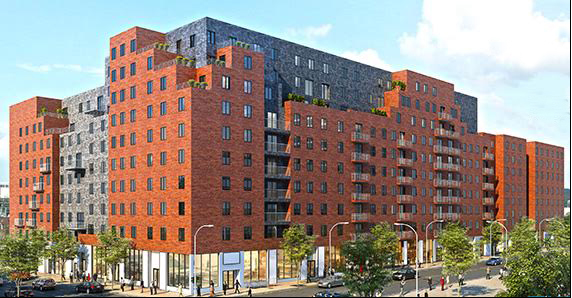 In the most recent example of developer oligarchs assaulting human-scale neighborhoods with out-of-scale, over-priced mega-developments, this report in The Real Deal covers the latest of the huge Cascade condo development in Bedford-Stuyvesant, Brooklyn.  An earlier Real Deal article covered the decision of a Bed-Stuy church to move from its home of 30 years because of gentrification.
---
More on Trump's Financial Ties to the New York Real Estate Industry
Lest we forget in frenzy of protests going on in the city, who are Trump's buddies?  A Real Deal article from last summer named a number of NYC real estate oligarchs who were financially backing our now-President Donald Trump: Howard Lorber, Steve Roth, Michael Fascitelli, Richard LeFrak, and members of the Adjmi, Cayre, Chera, Sitt, Gindi and Chebehar families.  A more recent Real Deal article described how the NYC real estate giant Vornado pays the Trump Organization millions each year.  If you needed another reason to be angry at our NYC real estate industry, here's one: they helped elect Trump, who then fires the Preet Bahara, the guy investigating corrupt land use deals here in the city.
---
IN DEFENSE OF THE HUMAN-SCALE CITY: READINGS ON "GOLDILOCKS DENSITY"
How do we build and protect human-scale cities?  By zoning for "goldilocks density": not too high, not too low… just right.  Read architect, developer, and editor for TreeHugger Lloyd Alter's thoughts on what makes "goldilocks density" the best approach for cities here.  Check out Professor of Urban Planning David King's illuminating response to Alter's piece here.
---
DESPICABLE REAL ESTATE AD OF THE WEEK:  The Westfield  Mall at Ground Zero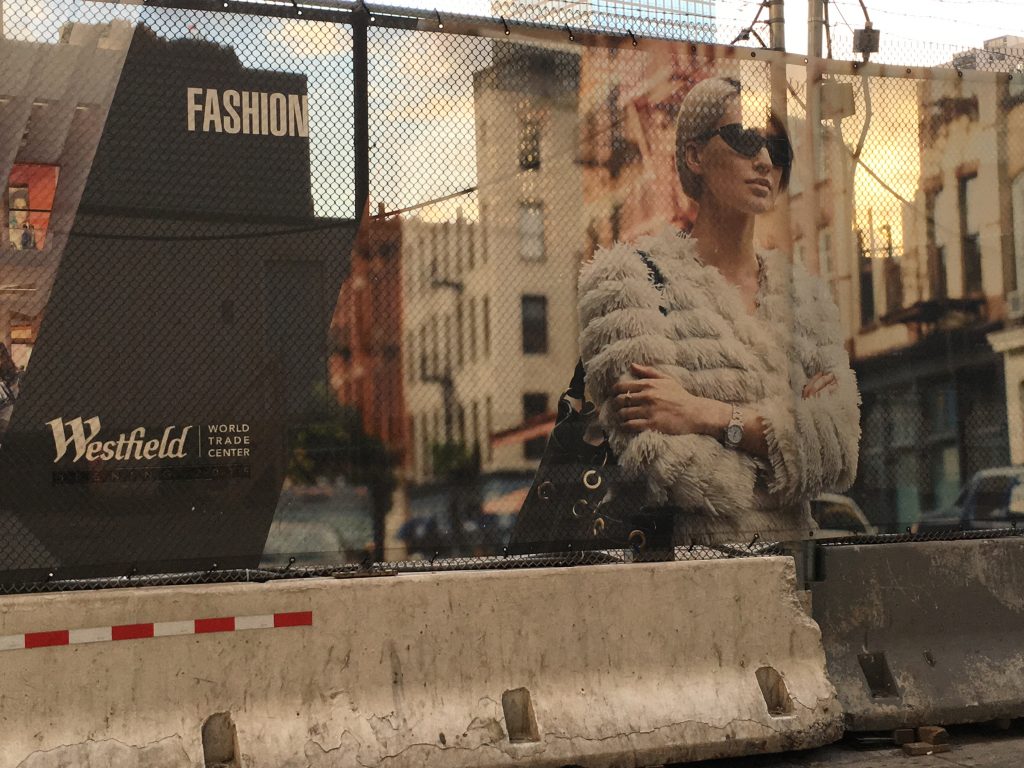 So many choices for this week's prize!  We settled on an outdoor banner for the depressing, anti-urban Westfield Mall at Ground Zero. The ad is strung up on the chain link fence as you enter the ground zero site.  It is shown above.
Recall that the mall is inside Calatrava's financial boondoggle and stegosaurus-like pile of bones that so enchants the tourists.  Go inside the stegosaurus and you quickly feel imprisoned in a homogeneous, globalized space that feels a bit like a European airport, and gives about the same amount of architectural pleasure.  But, slowly, as the ribbing above you penetrates your awareness, all at once you are Jonah inside the whale and being cursed by God.  How to escape?  It is hard to do that.  Exit west and you end up in the equally inhuman Brookfield Mall.  Head east and end up in the equally depressing Fulton Mall.
The despicable ad for the Westfield Mall, however, shows none of this.  What the ad sells instead is old human-scale Tribeca, the complete opposite of the Westfield Mall:  note the old buildings behind the overdressed shopper.  Pretty sick, especially when you consider that all these malls are draining the life out of the small businesses of Tribeca  (fact: there are now about 100 vacant storefronts in what is a fairly small neighborhood).
The upside to feeling trapped in the Belly of the Whale is that the shopper is protected by friendly and somewhat bored forces of the U.S. Military.  How did a real estate developer pull that deal off?   In addition to the soldiers, there are also police. It is like shopping in an armed camp (see photo below of soldiers keeping Kate Spade's store safe).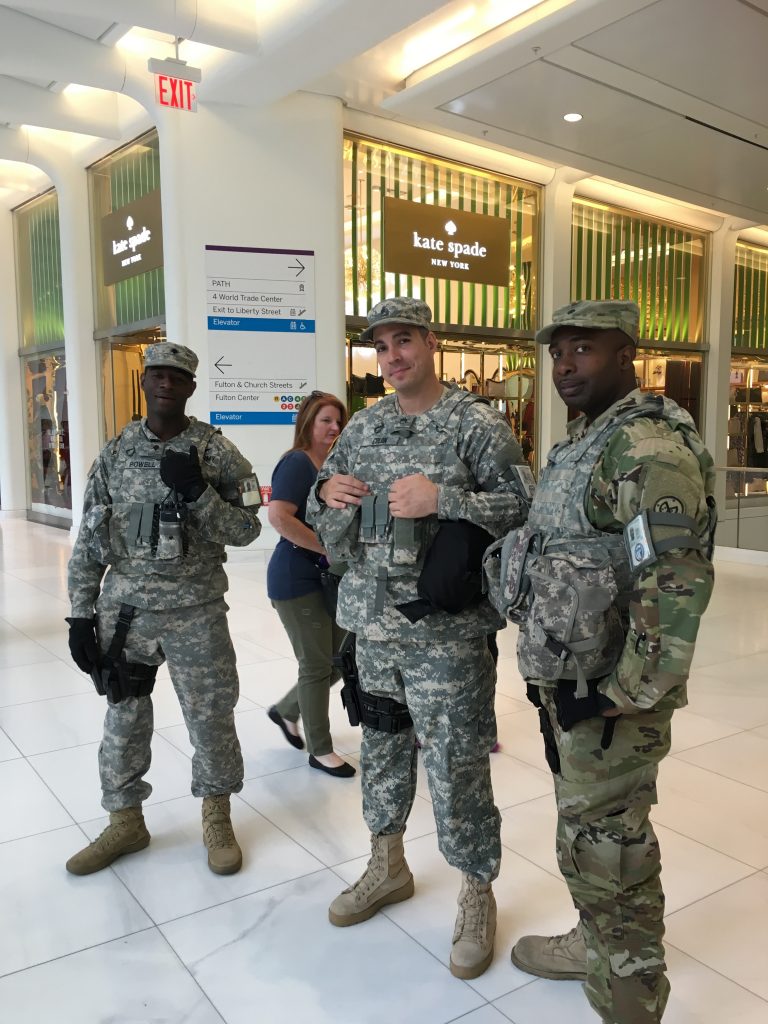 ---
COALITION OF BRONX COMMUNITY GROUPS UNITE FOR VOICE IN MAYOR'S REZONING
After learning about Mayor DeBlasio's plans to rezone a 73-block area along Jerome Avenue over a year ago, the "The Bronx Coalition for a Community Vision" began a lengthy process of engaging neighborhood residents to create policy recommendations for the rezoning.  The basic principle behind the coalition is that the rezoning of this Bronx neighborhood should benefit the neighborhood's residents first and foremost.  Seems pretty obvious, right? Their chief concern was that past re-zonings triggered massive displacement and to avoid this, their key recommendations were to put into place displacement protections for businesses and residents, "affordable housing" rents in line with average neighborhood incomes, and local hiring and job training for the development to come. Last fall, the administration released its draft scope for the rezoning, and effectively ignored the bulk of the coalition's recommendations.  Read the Coalition's official press release response to the City's draft scope here.  How disheartening that Mayor would ignore the legitimate, democratically-gathered recommendations of the community, just as he did when 90% of the city's 59 community boards that opposed his Mandatory Inclusionary Housing law in 2015 (link).  As the Coalition says in their press release: this "is not a community plan but a political one, focused on numbers rather than people, needs and community."
---
BILLIONAIRES ROW COMING TO UPPER WEST SIDE
The plague of super-tall glass towers that now dominate the skyline along Central Park South looks like its starting to spread to the Upper West Side.  Developers SJP Properties and the infamous Extell are up to their old tricks of buying up lots with large amounts of as-of-right development rights and then transferring additional air rights from nearby properties to build behemoth towers.  Read coverage of the development plans here and here.  Time to come up with new rules to regulate air rights transfers.
---
NY TIMES SHADOW MAP SHOWS PERILS OF OVERDEVELOPMENT
This past December, the Times released a fascinating interactive map of the shadows of New York City's buildings.  View the tool and accompanying article here and you can navigate to and zoom in on your block to see its shadows in the winter, spring/fall, and summer.  As the article points out, the size and frequency of shadows have a huge bearing on the popularity and price of different parts of the city.  And for good reason: as this article describes, exposure to sunlight and has massive health benefits and lack of sun exposure can be as bad for you as smoking!  There you have it: the overdevelopment of NYC is a public health crisis.  Screenshot below.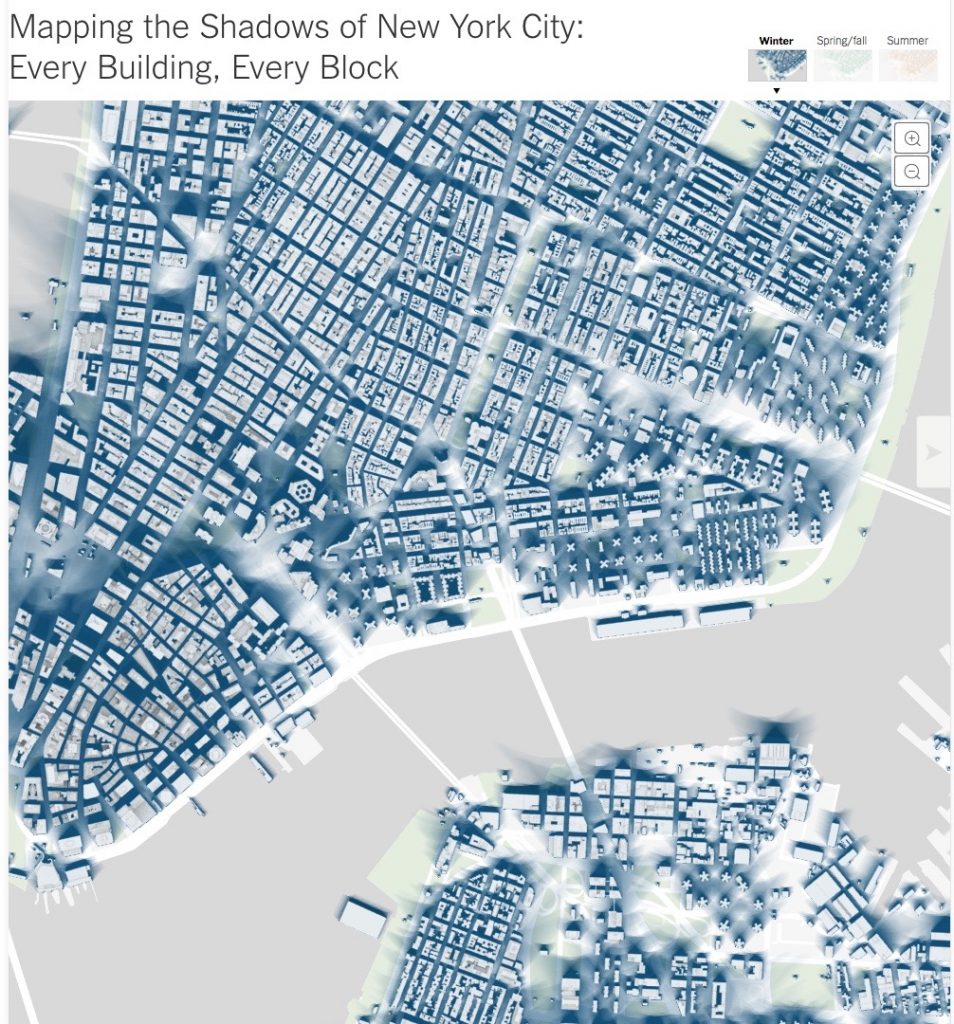 ---