If you haven't signed the Petition for a Human-scale city, do that first here.
---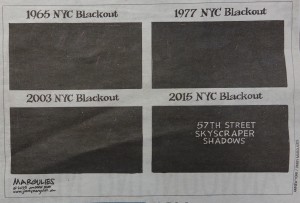 The above cartoon was found in AM-NY, the free paper. It isn't that funny, but in real estate, humor is scarce.
First up:  Two Save the Dates: 
 Manhattan residents: Your chance to participate in the democratic process is coming up. You may give 3-minute oral testimony at Borough President Gail Brewer's public hearing on the Mayor's hotly disputed zoning proposal, named Zoning for Quality and Affordability. The Landmarks Conservancy calls this proposal "a giveaway to developers and an assault on New York's unique and diverse neighborhoods." The hearing is this coming Monday, November 16, 6-8 pm. Clinton School, 10 E 15th St. Read more about the issue itself here. Too busy to attend the hearing? Upload your testimony here, even if you also plan to speak.
Tribecans:  Tribeca Trust is holding an information meeting about the Future of Tribeca this coming Tuesday, November 17 at the Downtown Community Center on Warren Street, north side of the street, between West and Greenwich from 6:30-8:00 pm.  We will give an update on historic district advocacy work, zoning reform, and also have a guest speaker from #SAVENYC who will brief us on the Small Business Survival Act. Refreshments will be served.
Now the Round-Up of Good News
Of Snark and Substance:  In a substantial article, Ginia Bellafante of the New York Times gave us hope that our city's paper of record might be waking up to the grave threats to our human-scale city. As the lead item in her report on the declining approval ratings for the  Mayor, Ms. Bellafante interviewed Lynn Ellsworth of Tribeca Trust and New Yorkers for a Human-Scale City.  Bellafante's fair treatment of Lynn Ellsworth's comments riled up a Mayoral spokesperson who quickly pestered Ms. Bellafante on Twitter, but since the journalist is no push-over, she stood her ground. Politico Pro reported on the story and gave details on the Twitter exchange last Monday, but muddled it with unsubstantiated commentary about density (well, Politico Pro does depend on real estate ads to keep going). Read the original Times article here, along with impassioned commentary from readers and well chosen photographs by Bryan Thomas. Read the Politico Pro summary at their website (paywall possible).
Our Quote of the week: In the Bellafante article, Lynn Ellsworth said: "Under what property regime are light and air not a common good?"
---
Sometimes you win one:  Friends of Brook Park Celebrates the completion of the South Bronx Greenway Randall's Island Connector.  Saturday, November 14, 10 am, Brook Park, East 141st St and Brook Avenue
---
The "Stand Up and Fight" Prize of the week will go to a new group, Save Cobble Hill. They are an outgrowth of the Cobble Hill Association and supported by that association. The group plans to fight the ugly, overscaled plan for the Long Island College Hospital that we reported on last week.  Here are their links:  www.facebook.com/savecobblehill/ and https://twitter.com/Save_CobbleHill
---
Kudos to Wall Street Journal for following this story of De Blasio's links to Big Real Estate and the unhappy story of the giveaway of air rights from the Styvesant Town deal. The article (paywall possible) here.
---
NY 1 Mysteriously gets it wrong, but at least they were there and covered the human-scale city event. Without much preparation, the lively March Against the Shadows along 57th Street went very well with an animated crowd of about 100 people.  It was obvious the marchers had turned out from all around the city, including several Brooklynites and Tribecans. Yet NY 1's headline said the March was only attended by midtown residents. See the story here. This shadow story is not about just midtown, but about regaining democratic control of the future of our city as a whole.
---
Another (small) win for green space!  After years of effort, a vacant, city-owned garage and parking lot will be transformed into a park on West 20th street between Sixth and Seventh Avenues. This is a welcome development in an area (Community Board 4) that ranks 58th of 59 community boards citywide in open space. Read more here. Let"s throw a wish to the wind that their park won't end up covered in shadows from new towers. Congratulations to the Friends of 20th Street Park for a hard-won campaign.
---
Sophisticated Testimony and Remarkable Public Turnout at the hearing about setting up a Task Force on Shadows Cast by Tall Buildings on Parkland.  The Chair of City Planning Commission Carl Weisbrod predictably came to testify at great length against the idea. Among much remarkable testimony given in favor of the idea, was that of Kate Wood of LANDMARKS WEST!. Once her testimony is available I will provide a link to it.  Janine Nichols provided this summary of the hearing:
"The meeting was packed, SRO. Carl Weisbrod, the head of City Planning, was the first to testify and his opposition to the legislation is TOTAL. At his left sat someone from Parks who spoke of the "mitigations" that dept seeks from developers whose buildings will cast shadows on parkland, basically $$ for replanting of "shade tolerant" flora and "monitoring and maintenance" of such. Woefully inadequate, as vividly pointed out by a UWS activist who showed a photograph of Damrosch Park behind Lincoln Center, which has been cast into permanent shadow AFTER "mitigation." Humans, someone else pointed out, are not shade tolerant, and it was clear to me that the Parks Dept is WAY too acquiescent. Weisbrod kept talking about the "sundial" shadows these buildings create, how quickly they move and are gone. He did NOT address, of course, what ROWS of super towers, as is underway on 57th St, would do collectively. He also defended the 57 St towers as part of the midtown commercial heart of the city, without acknowledging that the towers are all RESIDENTIAL. I believe it was a representative from the Sierra Club who pointed out that many of these multi-million dollar apartments are uninhabited most of the time, hermetically sealed and running heat and light and a/c  24/7 year round, utterly environmentally indefensible. 
Tupper Thomas spoke on behalf of community gardens and pocket parks. A single shadow can render such public amenities utterly useless: "You can't grow a tomato in the shade," she said. I wish she had made the same point about people's porches and backyards. 
I was amazed to hear 2 council members question the wisdom of continuing to allow "as of right" building at all, given that in 1961, when the rule was written, it was not possible to imagine thousand foot buildings on such small footprints. An end to as of right would be an extraordinary victory and I think we should pursue it with all vigor. 
The call for a moratorium on super towers was loud and clear. Many pointed out that while the Council dithers (not using that word, but that's what was meant), more and more towers are built. Every Brooklynite I know who saw it was SHOCKED at the rendering released this week of a 90+ story building over the landmark Dime Savings Bank on Fulton Street. When I showed the image at our monthly association meeting last night, people were aghast, dismayed, and very angry.
Unfortunately, the last speaker read a statement from the director of the Skyscraper Museum who sought to assure us that the day would come when we would all admire the grace and beauty of these towers and support their landmarking along with the Chrysler and Empire State. 
I can't estimate the bill's chance of passage. The Chair seemed very determined indeed.
Janine Nichols, Sullivan-Ludlam-Stoddard Neighborhood Association, Crown Heights"
---
The "they don't build them like they used to" award goes to Rafaweheel Vinoly for the cracks showing in his 1400 foot half-built (and ugly) tower.  The cracks were so bad they halted construction, to the delight of human-scale city fans everywhere.   Read about it here along with a terrifying photo of a building that ought never to be.
---
Progressive Caucus of the City Council does the right thing to address traffic mess by endorsing the MOVENYC traffic plan. Taming traffic is good for humans in a human-scale city.
---
Good-guy architect restores beauty to the architecture "of our times." Developer MDG Design + Construction, and the nonprofit Pratt Area Community Council, painstakingly restored the original exterior of the 1892 Brooklyn Fire Department Headquarters at 365 Jay St. The team purchased the building form the City for $1 and spent $5.6M renovating it, in the process building 18 affordable housing units and preserving its Romanesque façade and even retaining its birdcage elevator as a decorative element.  Read More (paywall possible)
---
And here are some actions you can take right now (not exhaustive):
---
And News From Stage Right, Where Lurk the Forces of Darkness
Ominous Developments:  City Planning Commission Approves 36-Story Condo Tower on Brooklyn Public Library Site. Brooklyn-centric developer David Kramer's Hudson Companies will pay $52 million for this site at 280 Cadman Plaza, where they will knock down the aging two-story art deco library and build a 36-story wedge-shaped building containing 139 units of housing, as well as a new library.
---
Architectural Crime of the Week: Insanely Tall tower to Rise in Brooklyn.  See here.  The Brownstoner's article also had a a useful article with a great graphic shown here.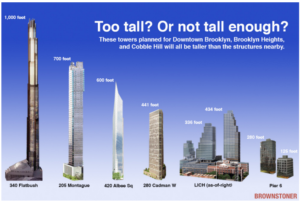 ---
Inquiring Minds want to know:  how dependent is the New York Times on the ads of Big Real Estate?  This question was provoked by the ad below.
.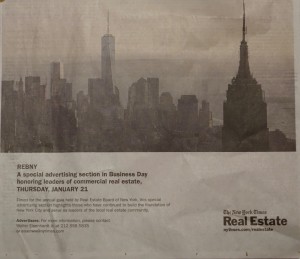 ---
Most Despicable Real Estate Ad of the Week:  The Four Seasons architect Robert Stern, and "hands in the public bonds" developer Larry Silverstein advertise $6 million-and-up condos in their phallic tower next to the Woolworth. Their ad features a photo of the ruined Tribeca skyline with a rich, overdressed couple cavorting in glorious low mid-rise Tribeca West Historic District (cast in shadow of course by the phallic thing).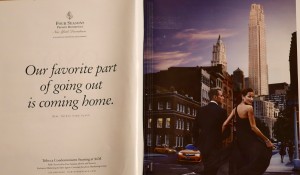 ---
Most Beautiful, but Vaguely Troubling Real Estate Ad of the Week:  The developer of condos for the upper portion of the Woolworth building took out an advertisement that featured a glorious close-up of what is the most beautiful part of the most beautiful tower in NYC. The photo strangely shows the Woolworth in pristine condition, probably photo-shopped,  for where are the many ugly towers nearby that now bristle and bully the Woolworth?  Oh well. It may be a fantasy photo of the Woolworth, not the Woolworth as it was or is – but stunningly beautiful. Note to spouse – giant blow-up photo of that image can go in our living room. Fun human-scale fact: Frank Woolworth lived in low-rise Brooklyn and used to stroll over the Brooklyn Bridge to work inside his creation.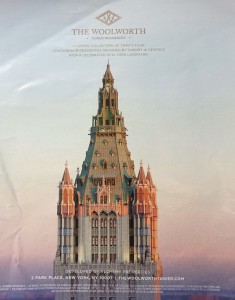 News On the Policy Front
Questionable math Behind Bill de Blasio's Affordable Housing Zoning Plan?  Read more here at City Limits.  The article prompted me to get a hold of the economic study, which turns out not to be about economics, but does  financial accounting of how much affordable housing the Mayor might get under various assumptions related to zoning changes scenarios. Stay tuned.
---
How might the Community Land Trust model be adapted for NYC?  Note to the human-scale world: this model needs more investigation, see the link at the Times article here.
---
Is De Blasio acting forcefully enough on this headline? Rent Freeze Program Renewal Rule Places Burden on Participants.  See the Times article here.
---
Possible inspiration from Paris for small business advocates shows up in the Wall Street Journal.  It featured a review of Elaine Sciolino's  new book, The Only Street in Paris.  Apparently the book has a chapter on how French laws help regulate the rent of small bookstores and shields them from online rivals. I'd love to know the details. Read the review here.
---
Crain's may have sunk to a new low with an editorial that read as it were cribbed from a REBNY Press Release. Read it here.  The editorial advocates  for micro-apartments smaller than 400 square feet. Hmmmm.  Sounds painful.  What if you have children?  They've been advocating that for a long time. If you want micro-units, why not just turn the Freedom Tower into micro-apartments of 400 square foot each?  That would  create 65,000 micro-units which would solve the affordable housing crisis in one go and might silence the advocates of hyper-density, especially if we made them live in it.