In April of 2020, at the height of the pandemic in New York, former governor Cuomo announced plans for the redevelopment of Pennsylvania Station. The proposal, dubbed the Empire Station Complex, calls for the construction of ten high-rise towers on the blocks immediately surrounding the station in order to help fund a modernization and ad-hoc expansion of portions of the current Penn Station.
Virtually everyone agrees that Penn Station is out of date and should be brought into the 21st century. However, the current plan has been criticized by over a dozen community groups, city and state politicians, and even some local landowners, who argue that the project would solve none of the major problems plaguing the station while undermining the future viability of Penn and destroying historic buildings in the process. In short, the Empire Station Complex is a terrible idea that would be bad for New York. Here's why:
The project is bad in five main areas: transit planning, urban design, historic preservation, environmental impact, and cost. By contrast, ReThinkNYC has put forward an alternate plan that not only addresses the fundamental problems with Penn Station, but rebuilds the original arched marble train shed while preserving the historic buildings and streetscape, having a lower carbon footprint, and even being cheaper!
Above is what the redeveloped Penn Station would look like as part of the Empire Station Complex. Below is ReThinkNYC's proposal to rebuild the original Penn Station.
If you are already convinced that we should scrap the Empire Station Complex and instead rebuild Penn Station, please sign our petition! If you want a lot more detailed information on ReThinkNYC's plan for Penn Station, please take a look at these webinars. If you still aren't convinced, please read on!
---
Let's begin with the meat and potatoes of any train station – its tracks, platforms and capacity. Penn Station has one-hundred-year-old tracks and rotting wooden ties that bring trains into narrow, crowded platforms. The platforms are crowded because their functionality is hindered by dozens of concrete pillars that are holding up Madison Square Garden. It is clear that the tracks need to be upgraded and the platforms widened, but widening platforms necessarily reduces the number of tracks because there's a limited amount of space inside the station.
The Empire Station Complex proposes solving this problem by demolishing all of 31st Street between 7th and 8th Avenues to build Penn South, which would just add more tracks and platforms, but leave the functionality of the station unchanged. Even worse, these new tracks would dead-end at Penn South, so trains would be perpetually forced to back their way out of this section of the terminal.
The actual, long-term solution to this problem is to increase capacity by converting Penn Station from a terminus into a modern through-running station. 21st century train stations like those of Tokyo or Paris use a through-running train system, which allows all trains to treat the main central station as just another stop on their route, rather than the terminal where they have to end their route and turn around.
This is how the current Penn Station works: New Jersey Transit, Long Island Rail Road, and even the Amtrak service from Albany all end their routes at Penn. This is incredibly inefficient because trains have to turn around or sometimes even head to a train yard to switch engines. It also means that people traveling from Newark, NJ to Mineola, LI (for example) will have to change trains at Penn Station. With a through-running system, commuter rail like the LIRR or NJ Transit wouldn't have to terminate and turn around. This would drastically increase the number of trains that could move through the station per hour while also allowing commuters to travel between New Jersey, Long Island, and Westchester potentially without ever having to transfer!
Increased efficiency solves the problem of platform size and track usage while also leaving the size of the station unchanged. And this isn't a pipe dream; it is just standard operating procedures – and has been for decades – in places like Tokyo and Paris.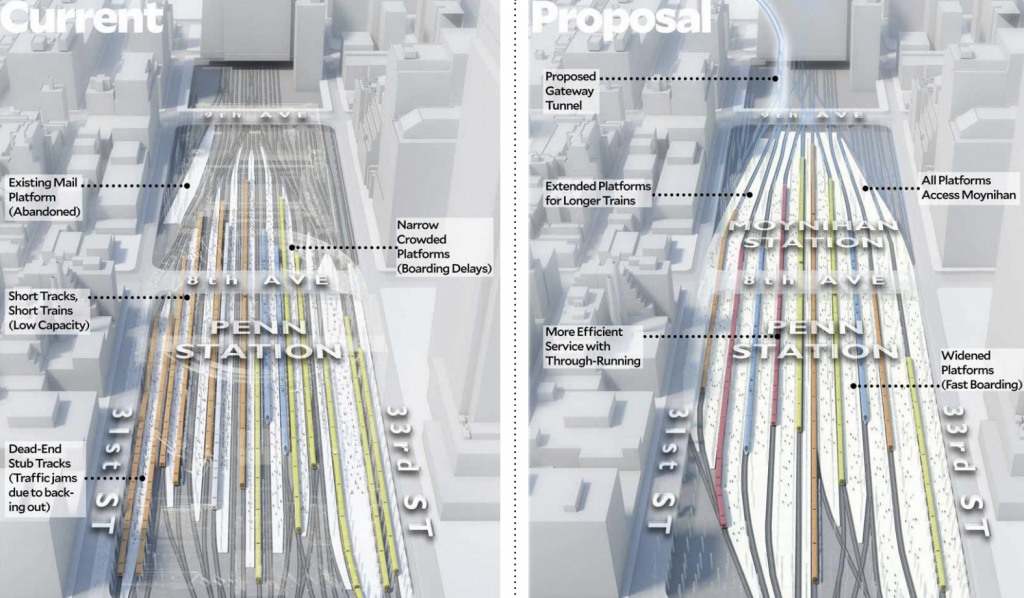 Left: current layout of Penn Station tracks and platforms. Right: ReThinkNYC through-running proposal.
Next we come to the questions of urban design and historic preservation. 
Above is a rendering of a new proposed tower that will replace the Hotel Pennsylvania. Other precious structures under threat are the Stewart Hotel, three 100+ year old churches, and myriad other beautiful old brick buildings that are literally the embodiment of what a tourist pictures when they think of "New York." All of these buildings would be lost under the current plan; all would be saved under the alternative ReThinkNYC plan.
And it's not like preserving and restoring historic buildings is a new idea. There are countless examples, both from New York City and cities across the United States, of real estate developers renovating and modernizing old buildings – and making a huge profit in the process. Just a few examples are: Empire Stores in DUMBO, the Highline, the Domino sugar factory, the renovation of Union Station in Denver, the rehabilitation of Michigan Central Station in Detroit. All of these projects have succeeded because of, and been reliant on, historic preservation. 
From top to bottom: Empire Stores in DUMBO, Brooklyn is a renovated warehouse that now houses offices, stores, and public space. Detroit's Michigan Central Station rehabilitation will be the centerpiece of a new development taking place in Corktown. The Domino sugar factory in Williamsburg, Brooklyn is being restored and converted into offices and commercial space.
The Empire Station Complex is also indefensible in terms of its environmental impact. The proposed ten high-rise towers, if built to modern standards, would almost certainly be constructed using reinforced concrete cores with sleek glass facades. Concrete has come under increasing criticism for the massive amount of carbon dioxide released into the atmosphere by the process used to manufacture it. Keeping many of the historic buildings that already exist would prevent the carbon emissions that are a byproduct of new construction.
In addition, the highly reflective blue glass that today covers the outside of hundreds of buildings across New York is dangerous for the city's bird population. Unless tempered with expensive materials, birds are generally unable to tell the difference between pure glass facades and the sky. This leads birds, especially migratory birds, to fly into skyscrapers and die. Again, none of this would be a problem with ReThinkNYC's proposal. 
Above is an example of bird-killing blue glass in Long Island City, Queens.
Lastly, redeveloping Penn Station as currently proposed under the Empire Station Complex would rob New York City of the once-in-a-century opportunity to rebuild their world-class, architecturally magnificent above-ground Penn Station. The original station, which was rivaled in beauty only by Grand Central, was demolished in 1968 and replaced with Madison Square Garden. Ever since, New Yorkers have had to commute through a dark, cramped, underground network of tunnels. This can all change if we tear down Madison Square Garden, whose lease expires in two years anyway, and which has already been moved twice in its history. And the cherry on top: all of this would be cheaper!
Above is the Empire Station Complex entrance on 8th Avenue. Below is the rebuilt pedestrian mall of a new Penn Station on 8th Avenue. This is what's possible. We just need to move Madison Square Garden.
Below is a comparison of the Empire Station Complex's dark, low-ceilinged tunnels instead of the grand halls of a rebuilt Penn Station.

VS.
The Empire Station Complex as proposed would cost about $7 billion dollars. ReThinkNYC's proposal to rebuild the original Penn Station is estimated to cost $4 billion dollars. The cost discrepancy is because the Empire Station Complex includes a southern expansion of Penn Station across 31st street. The cost of this expansion alone is enormous because of the steep expense of condemning the land and then building entirely new tracks and platforms.
Instead, because the ReThinkNYC plan would turn Penn into a through-running station with increased capacity and wider platforms, the station wouldn't need to be expanded to the south. So all the money that would be funneled into a southern expansion of Penn Station could instead be spent on rebuilding a modern train station that would once again allow you to, in the immortal words of Vincent Scully, "enter the city like a god."